Are you looking for a little more creativity in your world? Seeking a fun new way to destress? Do you love to learn a new skill or hobby? Then you're the perfect person for a Cratejoy DIY craft subscription box. Each month, new craft projects can be delivered safely to your doorstep, so you can get your creative juices flowing and sharpen some neat new skills. No matter your budget or skill level, you can find a monthly subscription box for arts and crafts that will delight you from the very first box.
As a leading provider of top-rated and award-winning subscription services, Cratejoy offers a craft subscription box for every lifestyle, routine, and age group. So how can you find monthly craft boxes that are perfect for you? Read on to learn about the incredible and unique variety of subscription craft kits out there, why people love subscribing to them, and how to find a new craft box that you'll love to make.
Perfect Craft Subscription Boxes for Your Lifestyle: Built for Busy People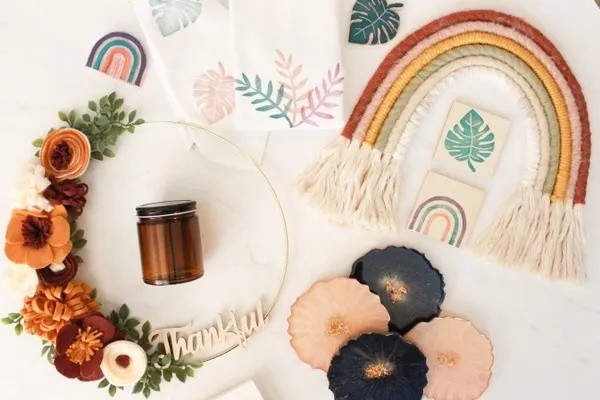 If you love DIY projects but can't figure out how to fit a new hobby into your schedule, there are plenty of arts and crafts month subscription boxes that can help you embrace your creativity and have fun without taking up too much of your time. Planners will love Cratejoy arts and craft subscription boxes because they can budget time in advance for their once-a-month projects. Plus, the monthly boxes are conveniently delivered and include everything that subscribers need to complete art projects, even something crafty and elegant like candlemaking. You're ready to go as soon as you unbox your art supplies and get your crafting space set up.
In addition to craft subscription boxes that bring a new project every month, busy bees will be smitten with boxes that deliver art supplies such as stickers, acrylic paints, or calligraphy supplies. However, if you want to reserve your once-a-month crafty time for a simple project that can be done in almost no time, check out our list of craft kits for adults that make DIY projects a breeze.
Perfect Craft Subscription Boxes for Your Lifestyle: Creative Crafters
Are you a creative soul who wants to devote more time to arts and crafts? Then you'll love having new monthly art projects delivered to you each month. With a craft subscription box, you'll enjoy unique projects and indulge in the DIY thrill of creating something yourself. Plus, with a new craft arriving each month, you'll never receive the same project twice.
People who value creativity may find themselves especially delighted by artistic hobbies such as painting or sketching. They might also want to build up their collection of craft supplies, and monthly art subscription boxes are a great and easy way to do that.
Perfect Craft Subscription Boxes for Your Lifestyle: Unplug, Relax, and Craft
Aspiring crafters who want a fun new way to unplug may find a lot of joy and fulfillment in hobby subscription boxes. By exploring a new hobby and developing new skills that require your focus, you may find that it's easier to put away your cell phone, laptop, and other screen devices with one of these subscription boxes.
Thanks to Cratejoy, you can unplug each month with enjoyable and time-honored hobbies such as knitting, quilting, or calligraphy. You can also discover easy-to-follow tutorials to take your knitting to the next level, help you become one of the more expert quilters in your area, or fine-tune another artistic skill.
Want to become one of Cratejoy's subscribers who finds relaxation and comfort in monthly crafting? See our list of hobby subscription boxes to inspire coziness in crafters. (The list was designed for fall, but the craft subscription boxes in it work great for nurturing relaxation any time of the year.)
Perfect Craft Subscription Boxes for Your Lifestyle: Crafting With Mindfulness
People looking to explore mindfulness can do so while treating themselves to arts and craft subscription boxes. When you try a craft project that requires focus, you become more mindful and stay in the present moment while completing the fun and beautiful task at hand. You can think of crafting as a form of meditation, keeping you present and focused while keeping your hands and eyes busy.
Monthly subscription boxes that provide adult coloring books are an awesome way to develop mindfulness while exploring your artistic and crafty side. Plus, you'll create beautiful and colorful pieces of art that are a lovely memento of your mindful activity.
Perfect Craft Subscription Boxes for Your Lifestyle: Viva Variety
Looking to add some variety to your life? You're not alone, especially during the COVID-19 pandemic. People who want to add variety to their daily routine and lifestyle may find that adults and crafts boxes are the perfect answer. As a subscriber, you'll receive a different kind of craft every month or a variety of projects with a similar thread.
With new DIY crafts arriving on a monthly basis, you'll have a neat new project to look forward to -- one that is fun and easy to make and looks great in your home or on social media. Cratejoy has curated monthly subscription boxes that feature trendy home decor projects, macrame, candles, coasters, wood burning, and more, ensuring that you have fresh and new DIY delight each month.
Perfect Craft Subscription Boxes for Your Lifestyle: Kids & Crafts
If you're looking to engage your little ones with new projects or instill a love of arts and crafts in them, kids' craft subscription boxes can help. These monthly art projects are age-appropriate and can help your children develop their creativity and fine motor skills. Plus, they provide projects that can keep kids occupied for a little while, which makes for a fantastic treat when they're stuck at home and away from friends during the pandemic.
Cratejoy has craft subscription boxes for kids that are great for specific age ranges, so you can subscribe with confidence knowing that your children will be able to enjoy their box's art supplies. Want to give your littles a fun, hands-on project sure to make them smile? Check out Cratejoy's list of engaging craft kits for toddlers (kids ages 1-4).
Got multiple kids in your home? How about giving all of them a super cool craft project to tackle? With the best arts and crafts boxes for kids of all ages, your whole crew can get their arts and crafts on and proudly display their masterpieces once they're done. Best of all, they'll each have their own subscription box and its supplies, so there shouldn't be a need to run out and get additional art supplies.
You can also treat the tween in your life to a craft subscription box that's on-trend and super fun to make. Want to make a tween's day really special? Give them and their best friend one of our oh-so-trendy craft kits just for tweens so they can craft something awesome together.
Enjoying the Perfect Craft Subscription Boxes for Your Lifestyle
Still not sure which craft subscription box is the one you've been looking for? Torn between two different monthly boxes? You can always treat yourself or your kids to more than one box at a time. That way, you'll get the thrill of exploring different craft projects and discovering which one brings you exactly what you want out of an art project, whether it's creativity, mindfulness, a new hobby, art supplies, or a gorgeous DIY craft.
No matter which monthly craft box or boxes you subscribe to, you can rest assured that your once-a-month project will be delivered conveniently to you with plenty of fun and fabulous supplies to help you get crafty and creative. With Cratejoy, discovering a new skill or finding a new hobby is easier than ever and can be done from the safe comfort of your living room. In fact, a craft subscription box just might lead you to discover a whole new talent you never knew you had.