Welcome to Day 8 of Camp Cratejoy!
Today, we had the opportunity to spend time with the team behind the delicious food subscription box Us | The Organic Italian Pasta Club! They put together an awesome (and super easy!) tutorial for us all to make Sicilian basil pesto from scratch, so you can have an authentic Italian dinner at home with pantry ingredients! Watch the video below for step-by-step instructions and get your carb on.
---
Pro Tip: Save 40% on your first box of snacks, drinks, and delicious meals (including Us | The Organic Pasta Club and its sister box!) at Camp Cratejoy's full collection of snacks to stock up on with any 3-4mo. prepay.
---
Meet Salvo and Chiara, the founders of Us
Both from Sicily, Salvo is the rational and business part of the team, always looking for innovation, tech and new ideas. Chiara, on the other hand, is the artistic side of the team; she is creative, very sensitive, always looking for the aesthetic part of everything. The pair are totally different in many ways, but what really unites them is their deep connection with their land, Sicily, and the values that they want to convey through their products.
---
Learn to Make Authentic Sicilian Pesto by Hand
---
What You'll Need:
2.5oz fresh basil (about ⅓ cup, packed)
2 garlic cloves, peeled
Mortar and pestle or food processor, whichever is handy
0.35oz salt (about 2 tsp., or to taste)
2oz shredded Parmesan cheese (about ¼ cup)
1.5oz shredded pecorino cheese (about 3 tbsp.)
2oz almonds (about ¼ cup)
1oz pine nuts (about 2 tbsp.)
27 fl oz. extra virgin olive oil (about 3 ⅓ cups)
How to Make Authentic Sicilian Pesto:
Start by grinding the garlic by itself with the mortar and pestle or in the food processor.
Add the basil and grind it up to a thick paste. Move the basil paste to a small bowl to sit for the time being.
To the mortar or food processor, add in the Parmesan and pecorino. Incorporate the almonds and grind the mixture to a paste.
Add the basil back into the mortar or food processor. Add the pine nuts.
When the pesto is ground enough to be a smooth paste, add the olive oil in increments -- one big drizzle at a time. When you've reached the consistency you want, you're good to go!
Store pesto in airtight containers or jars, making sure to cover the pesto with a layer of EVOO to keep it fresh.
---
Learn More About Us | The Organic Pasta Club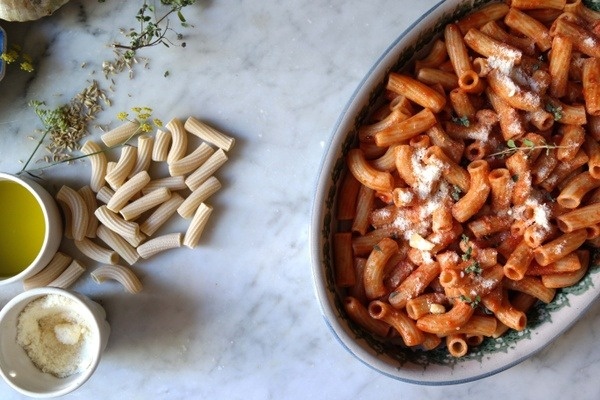 Why Italian food? What inspired you to launch this box?
We are two engineers: Chiara is a civil engineer and Salvo an aerospace engineer. While we were studying together in Berkeley, we decided to be entrepreneurs after [we completed our] Master's degrees. So we started a musical startup.
While we were living in NYC, every time we made dinner with friends or spoke about Italy, our friends asked us to get them Italian stuff or to tell stories about Sicily. So we decided to make a "Christmas Holiday" food box, just to have fun.
Surprisingly, people started ordering our "Sweet Comes First" Boxes for their Christmas, and so here we are now. We import the best delicacies from small artisanal producers in Sicily and we try to convey our values!
In fact, Us is a lifestyle. We bring back-to-the-origin food and meaningful values from Italian traditions to the modern/contemporary lifestyle.
Eating is not a matter of food trends. It is a synergy of the right raw Ingredients, territories and techniques, seasonal rhythms, [and a] meaningful lifestyle. When you cook with Us, you care, you feel, you are aware, you choose… what you want to eat.
What makes Us unique?
Technically, we start from traditional Italian recipes, thought to be made in 15 mins, easy, with artisanal, exclusive Ingredients from Sicily.
Actually, they are a lot more; they are the synthesis of the Italian culture. We tell a story about a plate, a culture, and we bring people gathering around the table.
Because what our culture has demonstrated time and again is that food is not merely for sustenance or taste, but as a means of learning and understanding, of finding shared connections. So while you enjoy our products, we suggest you stop, enjoy the moment, and share it with people you care about!
Anything else that you want readers to know?
Sure, we would love to let you know the funniest and favorite part of our job! How we choose our products!
First, we select the best producers from all Sicily. We travel through Sicily to meet them, to see how they make the products from the bottom up. Then the magic happens!
We have a Sunday lunch with our families and longtime friends. We sit around the table for hours smelling, tasting, [and] talking about these products. Then everyone expresses a vote with notes, thoughts, and preferences. The result decrees which products we will share with you, our amazing community.