School's out for summer, but for our little future scientists, artists, engineers and astronauts, love of learning is year-round and lifelong.
Ready to help your kids embrace STEAM and STEM activities during the lazy, hazy days of summer? Step up and learn what these frugal fun experiments can do for your kiddo – and how you can bring that fun to life at home with these easy, affordable projects.
STEM vs. STEAM
STEM, STEAM – what's the difference? And is one more important than the other? Before we can bring them to life with fun activities, let's sort out these acronyms -- or, jump straight to the activities below!
STEM – which stands for Science, Technology, Engineering and Math – got a huge boost in American education in 2011 with President Barack Obama's State of the Union Address. "This is our generation's Sputnik moment," he said.
In the previous "Sputnik moment," in the Cold War era, America's thirst to beat the Russians in the space race led to enormous investments and advances in science and technology. Post-Cold War, American education shifted away from this emphasis and toward classrooms featuring softer, more individualized learning. Combine that with the tech boom of the 1990s and 2000s, and it was time for America to take our contemporary, student-centric teaching model and return our attention to the sciences.
So this speech was Obama's call, to both Congress and the educational leaders of our country, to renew our focus on technological innovation, especially in the field of early education.
GIRLS CAN! CRATE subscription box
The STEAM movement got its official start at RISD, the Rhode Island School of Design. As early as 2010, RISD started advocating for the importance of including the arts and humanities in the growing STEM movement. This led to the creation of STEAM: Science, Technology, Engineering, Arts and Math.
Now, both STEM and STEAM are household names – and kids activities in both are fun ways to kickstart young minds and lead to a lifelong love of learning.
How STEM and STEAM (em)power children
Everyone agrees that STEAM and STEM activities are important, and no one moreso than our own Department of Education. Their stats reveal that just 16 percent of high school students express an interest in STEM, and fewer than half of those go on to enter careers in science and technology fields.
But STEM is one of the fastest-growing career fields, and research shows that kids who learn an early passion for STEAM and STEM learning, through parental and classroom support, develop a love of learning that drives them for life. Plus, making sure to include that "A" with the traditional STEM fields encourages multi-modal thinking – a holistic approach that, says the University of California at San Diego, allows students to "exercise both sides of the brain at once."
Ready to help your children reach for the stars? Here are some great, affordable STEM and STEAM activities to consider this summer.
STEM Activity 1: "Program" jewelry
If your kids are school-aged, they've probably already started learning coding fundamentals in class. And with good cause: Coding helps structure thinking and problem-solving, and is key in acquiring digital literacy. Plus, it's fun! Today's kids' programming projects and technologies are zany, colorful, and build upon traditional logical building blocks like input, output, and affecting change.
Bring the fun home with a hands-on project to teach your kids coding fundamentals. We love this "code your name in binary jewelry" project, which touches on both technology and arts and crafts – and makes adorable gifts.
STEM Activity 2: Build your own apps
When your little coders are ready to take on their first-ever apps, give them a gentle introduction with BitsBox. This coding subscription box for kids delivers a different app-building project to your home each month. Geared for learners ages 6-12, BitsBox puts the power in your children's hands by walking them through projects and letting them see the real live app results. Plus, each project comes with a "grown-up guide," so you can grow together.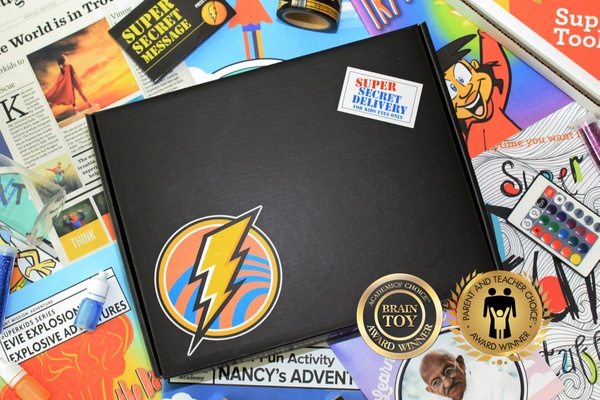 STEM Activity 3: Crack the superhero code
Up in the sky! It's a bird! It's a plane! It's your child's self-esteem! STEAM and STEM challenges can be intimidating for kids, especially children with math anxiety. Give your kiddo a boost by stepping out of the classroom and teaching them to be their own heroes with fun projects.
This simple and fun secret code activity includes a handwriting component as well as a math component to keep kids thinking about computing. Once your kiddos crack the code, keep the fun going with the award-winning Superpower Academy subscription box!
Superpower Academy, a subscription for kids ages 5-10, delivers "secret mission"-themed STEAM projects, allowing children to unlock "superpowers" as they complete them. It's overwhelmingly fun, including secret messages and stories of real STEM heroes alongside social- and emotional-intelligence focused projects like building emotional visualizers, saving trees, and more.
STEM Activity 4: Level up your slime skills to save the planet
The E in STEM/STEAM stands for engineering, but with the powerups that come from environmental education, it might as well also stand for Earth. Help your kids make the connection with science projects that have environmental impact.
If your kiddos are familiar with super-fun DIY slime (like the Slime Box) and magnetic slime, then they'll have a blast taking it to the next level with the Oil: Clean It Up! challenge. Designed by educators, this fun science experiment demonstrates the power and challenges of cleaning up oil spills, just like the real ones affecting our beaches.
For busy parents who want to keep the green learning going, Green Kids Crafts is a brilliant STEAM solution. Get up to 6 eco-friendly, carbon-neutral STEM projects and learning activities (curated for ages 2-10) delivered each month encouraging literacy, creativity and more.
STEM Activity 5: Make a popsicle stick catapult
What better place to launch a big future than in your own backyard? Use materials you've already got at home for this catapult project, the perfect way to jumpstart your kids in thinking about physics. (Plus, it's just messy enough to feel forbidden – what engineering challenge could be more fun?)
STEM Activity 6: Play with electricity
...safely! And also experiment with sound, gravity and more with the fun STEM and engineering projects presented by Groovy Lab in a Box. This monthly subscription delivers STEM projects geared toward blending scientific inquiry and the engineering process, like build-your-own roller coasters, windmills and more – perfect for the budding engineer.
STEM Activity 7: Be your own mad scientist with hot ice
This science experiment is great for a couple of reasons: you can do it all with materials you already have on hand, and the results are downright magical. Grab your vinegar and baking soda and give this science project a whirl. (And if your kids get hooked on cool science, keep the fun learning coming with a subscription to Club SciKidz Labs, a monthly box letting kids explore topics from astronomy and geology to oceanography and veterinary science!)
STEM Activity 8: Combine art and science with chromatography
For whole-brain learning, don't forget that A in STEAM! Teach your kiddos where science and art intersect with this fun, easy marker chromatography project – just grab your markers, a glass jar, pipe cleaners and some coffee filters to watch the magic happen.
For more kids' crafts, check out the minds behind We Craft Box – a subscription that takes art supply shopping off your to-do list and delivers 2-3 themed craft projects for kids ages 3-9.
STEM Activity 9: Teach girls to be STEM she-roes
Old-school modes of thinking have traditionally boxed little girls out of STEM fields (remember the "Math is hard!" Barbie, anyone?). Fortunately, we're breaking down those barriers. Focus on the girls in your world with the empowering activity sets from the Girls Can Crate and Black Girl Mathgic. Though neither subscription is limited to girls only, the STEAM and math activities in each are accompanied by stories of real-life women who were heroes in STEM and STEAM fields, and are empowering for all children.