The important women in your life deserve nothing less than carefully selected gifts––whether a holiday gift or just because––that reflect the magnitude and singular nature of each of your relationships with them. But what if you're tired of the usual gifting routines? What if the pandemic has left you more inspired than ever to support small businesses over Amazon? What if you're in need of a gift that continues to give—–just as your relationship with the special woman in your life continues to grow?
There are many reasons why a subscription box is the perfect gift for the women you love, but chief among them is the most important one: a subscription box, whether it's filled with skincare and beauty products, aromatherapy and essential oils, succulents and home decor, cruelty and eco-friendly items, or a focus on self-care and wellness, is unique. There is simply no gift quite like a subscription box.
And there's a subscription box for every woman! There are subscription boxes for women in their 30s, in their 40s, or for women under 50. There are subscription boxes that deliver exceptionally unique experiences and subscription boxes for people who already have everything. If you're looking for something truly unique, you'd do well to start with this collection of not-so-basic subscription boxes to try.
But no matter you choose, the goodies inside will keep giving: each month, the woman in your life will receive new products, and be reminded of you and your gift all over again. Think about it: When else can one decision—Which of the best subscription boxes do I want for the woman in my life?—lead to twelve (or more!) times she thinks of you and smiles? And, as a bonus, don't forget that a subscription service means the ultimate in convenience: your presents ship directly to your loved one's door.
Great Gift Subscription Boxes for Women: 5 Categories to Try
Beauty Boxes
If there's one thing nearly every woman can agree on, it's the importance of skincare. Looking to provide a deluxe experience for the woman in your life with a subscription box filled with skincare and beauty products? Start here: with Cratejoy's top 9 skincare boxes, with this list of Korean beauty subscription boxes, or with this collection of bath and beauty boxes. No matter which you choose, you'll have the woman in your life feeling confident and beautiful thanks to your gift. What could be better than that?
Aromatherapy
Of course, in addition to visual beauty, you'll also want to tantalize the important woman in your life's other senses—why not start with her nose? Whether she's your best friend, your bridesmaid, or your wife, consider giving the gift of aromatherapy and essential oils. Check out this collection of our top aromatherapy subscription boxes for great ideas!
Home and Garden
Maybe the woman in your life prioritizes her home environment—or has a giant green thumb? The answer might be in a high-quality subscription box filled with succulents and/or home decor. Consider the best succulent boxes roundup here, or this collection of the best home decor and subscription boxes. To make that thumb even greener, you could choose from this list of seed and plant of the month clubs, or this roundup of plant subscription gift ideas. Not sure where to start? These housewarming gifts ideas and candle and gift boxes are sure to surface brilliant options for the woman you love.
Cruelty-Free and Vegan
Looking to curate a gift that doesn't harm the planet for the woman you love? Whether you need a birthday gift or a Christmas gift, the best gifts are cruelty-free and eco-friendly gifts. One of her new favorites might be found among these vegan subscription box ideas, or this curated selection of cruelty-free items. Gift boxes for women interested in a zero-waste lifestyle can be found here.
Self-Care and Wellness Boxes
And finally, what roundup of ideas for women would be complete without devoting some space to self-care and wellness? Whether it's a monthly box or a quarterly subscription, chances are that any of the women in your life who matter to you could benefit from an increased focus on self-care and wellness. A little luxe can go a long way toward feeling like your best self, and the best self-care and wellness boxes know that. Our favorite collections include full-size products and curated options—but the options really are limitless.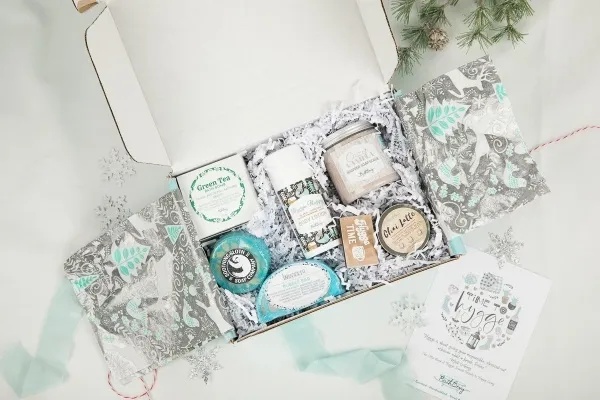 Not sure where to start? First, learn more about the six types of self-care, to determine which one your loved one might benefit from most. You could peruse these self-care subscription boxes for a happy mind, body, and soul, or these top self-care Sunday subscription boxes. We have options for self-care gifts for new moms and self-care kits for moms, as well as a roundup of the very best wellness subscription boxes. There's the collection of self-care essentials for mind and body, and last but certainly no less important, this roundup of the best mental health subscription boxes—because self-care starts from the inside out.
Giving the Gift of Subscription Boxes
No matter which subscription box you choose, you can rest assured that your gift is unique, convenient, and consistent for the woman in your life. Maybe you're planning for Valentine's Day, or maybe you're already thinking about Mother's Day. Maybe it will be the woman you love's first box, or maybe it will be another in a growing collection of subscription boxes she loves. Regardless, your gifting will be made more personal, special, and memorable if you choose a monthly subscription box for the woman you love. Happy shopping!