After the winter, gardeners are eager to get back into the soil, knowing that in a few month's time, things will be ripe for the picking, ready to toss into fresh salads and fill household vases. More than just getting your hands dirty, gardening requires a little bit of thought and plenty of preparation.
So throw on a broad-brimmed hat and head out to make sure you've got everything you need to get your garden off to a great start. Whether you're a seasoned gardener or a complete newbie, here are 7 tips that will help you prepare your garden bed for a successful summer bounty.
1. Location, Location, Location!
Whether it's a predetermined plot in your backyard or a community garden, a collection of raised beds or a patio container garden, how you're going to prepare has a lot to do with where you're going to plant!
Using all the resources available to you, it's time to learn a little about your space. Consider doing a soil test to get a better understanding of your soil pH and whether or not you will have to make any soil amendments. Understand the quality of your sunlight, and choose the best locations that are available so you can maximize your success.
2. Plan Your Garden Layout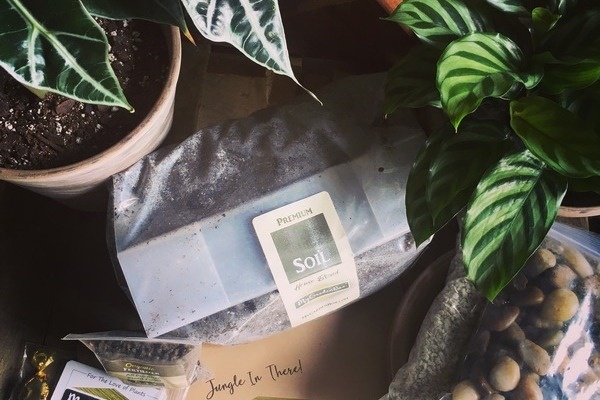 Once you've taken some time to understand and select your gardening space, it's time to consider what you'd like to grow. Many times what you want to grow may not line up with what is suitable to grow, so pay attention to the zone where you live and the amount of sunlight your garden gets, researching the plants that will thrive in your space.
Spend a little time understanding the practice of companion planting, the process of selecting plants that will mutually benefit those grown alongside them by acting as a nutritional supplement or being a natural deterrent to pests.
Planning can get stressful for gardeners, so if you'd like a chance to simply explore and experiment, try Bloomin' Bin -- a monthly box that offers a range of subscription options to help gardeners of all skill levels find plants and vegetables that are in season and ready to plant. Just-seed boxes can bring new crop ideas to those with experience, while those just beginning their gardening journey can start to build a collection of tools, planters and organic fertilizers that will keep their garden growing.
3. Ready Your Garden Gear
Now that the space is planned out, it's time to ready the gear. Do a little spring cleaning in the shed to find your seed-starting equipment and your trusty garden tools. If you're feeling out of your element, you can take an afternoon and stop by your local garden center and seek out some pro tips on what tools are best to use for your specific garden.
Or, you can have fun and try your hand at unique gardening projects with My Garden Box. Complete with plants, pots, supplies and instructions, you'll get a chance to explore new planting techniques and fun design ideas that will help you add a little charm to any outdoor (or indoor) garden.
4. Give Your Garden Soil a Nutrient Boost
When it comes to gardening, soil preparation can never be undervalued. Everything from vegetable gardens to mulch-topped flower beds requires proper soil care. First, it's important that you begin the process when the soil is ready to work. Whether you're creating a new bed, prepping a raised garden bed, or working with last year's plot, the soil must be sufficiently dry before starting your project.
Assuming that you're working with a topsoil that is not a heavy clay and is sufficient for plant growth, go ahead and see if the soil is sufficiently dry following winter. You'll be looking for a soil structure that is crumbly, and does not form clumps. If it still forms clumps, the ground isn't ready for the next step, so hold off and let the sun dry it out more.
If you've got a good, crumbly soil to begin, now's the time to clear out any old plant debris or organic material from the previous year, along with any weed seeds or plants that you can see. Here you can grab a garden fork and do some gentle tilling, trying to create air in the soil. Because plant roots need to have space to breathe, the soil in your garden area must be well-aerated.
Next, you're going to go ahead and replace nutrients that have been used in previous growing seasons or that have leeched out by adding a 2-inch layer of compost, either bagged or fresh from your compost pile, and sprinkle some fertilizer on the soil surface. This thick layer of compost and fertilizer will ensure you're working with a rich soil that your plants will love.
5. Planting Time!
Essential for vegetable gardening or flower gardening, a successful garden must be planted correctly. Some plants will be successful by simply sowing the seed directly in the soil, while others should be sprouted and grown for some weeks before transplanting into the garden bed.
These decisions are dependent on what exactly you're growing, of course. Flower bulbs will be very different from tomato plants, for example, so always do the necessary research for the specific plant you are growing.
Want a little help from the pros? You've got options! Urban Organic Gardener is a monthly box that sends only the best heirloom, non-GMO vegetable and herb seeds that have been specifically selected to work for your garden space and specifics. For those down under, we've got you covered during your summertime with Easy Come Easy Grow, a seed subscription exclusively for Australian gardeners.
6. Careful Cultivation
Now's the time to don your sun protection and your gardening gloves and shower your plants with love. Get down in the dirt, taking care of any weeds or making sure that pests are properly controlled. Provide sufficient water -- not too much and not too little -- and sit back and watch your plant babies grow before your eyes. This time is all about letting the sun do its work, and managing any problems as they arise.