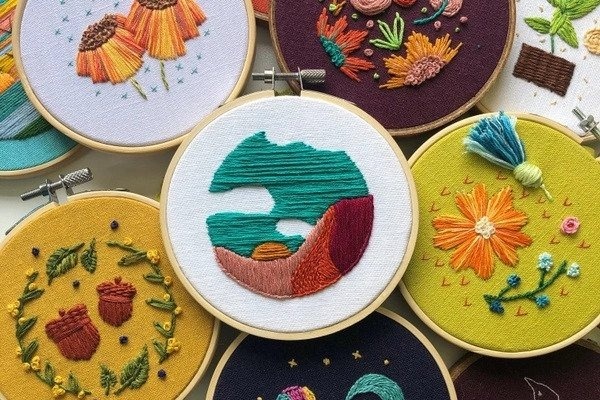 Hope Brasfield knows what it's like to feel a little down on her luck, and a little stuck at home, too. "I fell into embroidery after leaving my PhD program at year five," she tells us. "I was working as a barista at minimum wage with a (somewhat useless) Master's degree, had fallen into a deep depression, and had no clue what I would do with my life, let alone how I was going to make ends meet. Embroidery was really the cheapest hobby I could get into, and I loved that I could pick it up and put it down whenever I had time."
These days, Hope is the founder and owner of craft subscription the Hopebroidery Box, whose mega-popularity this year proves that she's not the only one who turns to DIY when times are tough. When she transitioned out of her PhD program, she says, she felt "like I could never finish anything." But embroidery gave her a new model of success –– and a community.
"When I did finally finish my first project, I was absolutely hooked. I started posting pictures of my final projects on Instagram, which at the time I had no clue was much more than just 'Facebook for pictures.' Strangers started to follow me, and I started making friends in the [online] embroidery community," she explains. Her new community helped her reframe her view of herself. She wasn't a "failure" because she changed her life; she was an artist. "Even if the story had ended there, embroidery had absolutely already changed my life," Hope says. "It was essentially a corrective emotional experience for me."
With over 220,000 followers on Instagram, where Hope features her latest projects and teaches technique, it's clear that she has become a self-taught embroidery expert. As she learned more, however, she couldn't find an easy, convenient solution for learning new projects on a regular basis. "Before I built this box, I was searching for one just like it –– so I could subscribe!" she says. "I found a few pattern-only subscriptions, a few with different types of floss or fabrics, but nothing matched up what was in my head. I thought, what if I just… made it myself?"
Now, Hope develops and curates each monthly project with subscribers like her younger self in mind –– because her work on the Hopebroidery Box has shown her that she's certainly not alone. "So many subscribers have sent me emails and DMs to let me know that embroidery has helped them during difficult periods of their life –– whether it brought them out of a dark place emotionally, helped them get through a difficult medical situation, or even just helped them feel like they could more be their more authentic selves."
As a result, Hopebroidery includes a great deal of helpful content and guidance for those still learning or who need support. "All of my boxes come with a stitch-by-stitch video tutorial where I'm ostensibly teaching new stitchers how to do a French knot, or how to satin stitch, or whatever, but I also try to reinforce certain lessons I've personally learned through the craft," she explains. Lessons like what, you might ask? "It's not supposed to be perfect," Hope explains. "Patience is a skill that you can practice with yourself and get better at over time. And, it's okay to let go of things that aren't working for you anymore. Oh, you spent 5 hours on a piece, but you're not interested in finishing it anymore? Throw it in the 'never to be finished pile' and move onto something that brings you more joy."
What's more, Hope uses direct feedback from members of the Hopebroidery community to develop projects and curate products for future boxes –– and is always happy to talk directly with you if you need help with a new embroidery technique. "I am always just an email away," she tells us. "I am totally happy to walk you through something you're having trouble with directly via email. I'm also always delighted to get emails from subscribers on suggestions for making the box better –– my box has gotten SO much better over the years, thanks to the advice and feedback I've received from customers!"
It's clear that Hopebroidery isn't just a passion project for Hope, but a thriving community and inspiring mission. And seeing the closeness and support within the embroidery community, we couldn't feel more inspired by Hope and Hopebroidery's story.
"My goal in my business is the same as my goal in life," Hope says. "To be heard, and to hear other people."