You won't be surprised to hear that people love Fresh Baked Cookie Crate. Who doesn't love a good cookie? And delivered right to your door? Sign us up, please!
Each monthly box includes a creative, brand-new, and never-to-be-repeated recipe for a classic homemade cookie, from s'mores to macadamia nut to snickerdoodles with brown butter. For the full details, we sat down with the founder of Fresh Baked Cookie Crate to hear more about this delightful baking kit!
---
What are you hoping to accomplish through this subscription box?
We hope to bring joy into people's lives. Our cookie crate can accomplish so many things!
Families can have fun unboxing the cookie crate each month, seeing all the fun and cool surprises each box brings, spend time together baking, and enjoying the cookies in the end.
People who are learning to bake can now bake gourmet cookies without worrying.
Trying new recipes can be costly. Buying each ingredient in bulk adds up, especially gourmet ingredients. With our ingredients being pre-measured, it allows people take bake seriously good cookies without the investment.
People with no baking skills can surprise their loved ones, co-workers, friends, etc with freshly-baked cookies.
Last but not least, we like to experiment with different ingredients. With a new cookie each month that's never repeated, our subscribers get to try flavors they wouldn't have ever thought of, or gotten a chance to.
What makes Fresh Baked Cookie Crate unique?
We use quality ingredients. Gourmet, organic, all-natural, preservative free, etc. We also try to source all of our ingredients locally.
Our ingredients are also pre-measured and vacuum-sealed for freshness.
It's not just ingredients, either; we also add, at minimum, $50 value (usually way more) of awesome cookie- and baking-related surprises to unbox. Things like shirts, candles, accessories, decor, baking tools, socks, etc.
We want to bring as much joy out of a box as we can, and we feel we've accomplished that mission.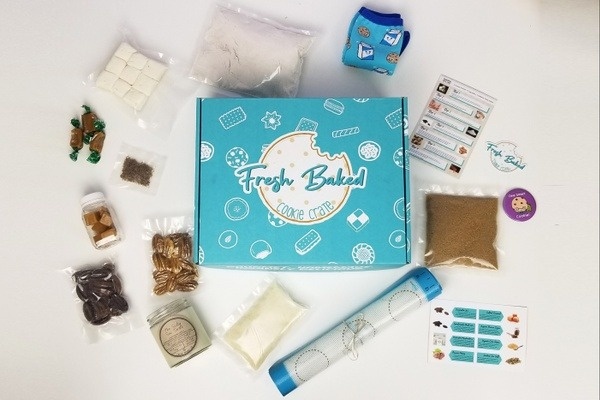 How do you decide what goes into the box?
We source our products from companies who produce gourmet ingredients. We try to find the best ingredients produced here in the U.S. As local as we can.
We even pick up certain ingredients, like pecans, straight from the pecan farms here in Texas. We taste-test everything multiple times and tweak each recipe until it's perfect!
Lastly, anything else you'd like readers to know?
Success is seeing people happy. If we can bring joy to families, make relationships brighter, [and] make people (re)discover the love of baking, then we've accomplished everything we set out to do.