When it comes to important people in our lives, Cratejoy knows that moms hold one of the top spots. Not only do they give the best hugs and make us feel better when we're sick, but they also inspire us. Cratejoy is lucky to have a handful of mompreneurs in our Marketplace! So let's take a look at some new unique subscription boxes that were founded with the selfless love, endless energy and creative spirit that only a mom could provide.
We are thrilled to introduce you to the moms behind The Pixie Box, Nine of Earth, FashionableTreasure and Liam's-Little-Bow-Tie-Box. From a mom-and-daughter business duo to a new mom of a thriving baby boy, these women took a leap of faith to create truly one-of-a-kind boxes. Keep reading to meet these motivated moms and learn why you'll find their boxes surprising and fun.
The Pixie Box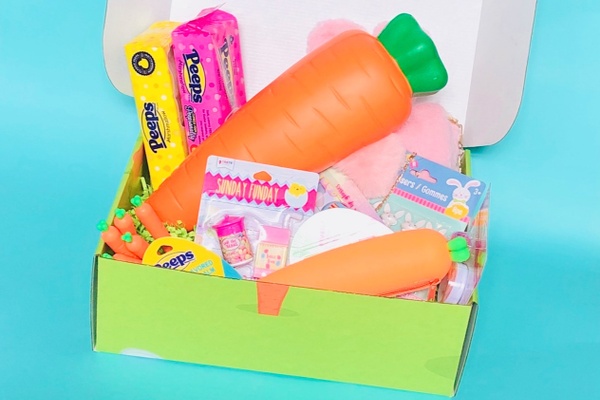 A mutual love of art, accessorizing, and self-expression inspired the mom-daughter duo of Carla and Cali to launch The Pixie Box. With a spark of spontaneity, they decided to combine their love for online shopping and unboxing to create something special for eccentric and creative tween girls.
Carla and Cali fill each package with adorable and snazzy items and accessories to help tween girls express themselves. "We want all girls to get that exciting feeling when receiving a package in the mail," they told us. One popular box was themed around donuts and included a mini hair straightener, coin pouch, markers and more, all decorated based on the favorite sprinkled treat.
Each monthly delivery of The Pixie Box is curated following a theme which is carefully chosen to inspire confidence and a sense of style in young women. Carla and Cali pick out 7-10 fun items including things like a new handbag, stationery, pins, patches, hair accessories and other quirky items to fill each monthly box. As Carla and Cali say, "it's a subscription box as stylish and colorful as you!"
Treat the tween in your life to the Pixie Box here.
Nine of Earth
In a previous career, Nicole Marsh, the founder of Nine of Earth, was a grocery store buyer. Nicole said she had a talent for finding desirable items: "I had an eye for what customers wanted." Motivated to nurture her buying skills, she started a website selling unique jewelry and crystals. As the website grew, she struggled to find a balance between her full-time job at the grocery store, her budding ecommerce business, and mom life. After a particularly stressful day at the grocery store, she decided it was time to pursue a different path - so she quit her grocery store job and set forth on a journey of finding happiness and her true calling.
It didn't take long for Nicole's calling to reveal itself. She's always been drawn to witchcraft and Tarot and these topics spoke to her one special night. "The idea for my box literally came to me in a dream. I am determined to make it a reality," she shared.
Nicole explained that Nine of Earth is "not your average Witch box and is geared at modern, young-spirited women." She describes the items as "a little on the edgy side, sometimes a little bit Kawaii, but always badass." Subscribers receive a box every two months, which always includes a tarot- or oracle-related item, a unique piece of jewelry and more. The 6+ items in these unique subscription boxes might include a T-shirt, keychain, crystals, home decor (such as candles), or books. The items are picked based on a fun theme, which adds an element of surprise and thoughtfulness.
With Nine of Earth, Nicole is also supporting small businesses. Their debut box included handcrafted products like an illustrated tarot deck, candle, and cinnamon cedar smudge stick to celebrate Yule, as well as protective crystals, a flour-sack towel featuring a death moth design, incense, and a raven-skull necklace. All products come from independent businesses and artisans. By starting this box, Nicole's goal is to not only help small businesses, but to also sell enough to eventually be able to give back to the community in the form of donations.
"I would like to spoil people, and bring them a little bit of inspiration and fun in each box. I want people to realize their own power, and manifest their own destiny. That to me is really what Witchcraft is about," said Nicole.
We're sure you'll be spellbound by Nine of Earth's monthly treats! Find them here.
FashionableTreasure
Rebecca Mendoza started FashionableTreasure with her mother and sister as a way to bond over two things they all adored: jewelry and a good bargain. "This subscription box allows us to share things we love with people who will love them too!" Rebecca says. "We love picking out the jewelry and creating sets." As self-confessed subscription box addicts, this mom-and-daughters trio enjoys coming up with monthly themes and handpicking creative pieces for the boxes.
Every month a hand-decorated wooden box is delivered to the subscriber's doorstep. As they unbox these cute collector boxes, they'll find 3-4 specially-selected jewelry pieces in line with the month's theme.
Filling the creative wooden boxes each month is a team effort. Rebecca says, "My sister, mother and I decide together what goes into the boxes. Since we have such different styles, we know that when we agree on the jewelry pieces, our customers will love them too!" Rebecca continued on to say, "Some of our products come from amazing sales, but mostly we buy wholesale from larger department stores. We've been able to source a lot of products from Macy's and Nordstrom, which has increased the amount of luxury brands we have."
Rebecca initially launched FashionableTreasure to inspire people to use jewelry to express themselves and add a creative touch to their outfit. As she says,"Some people overlook how much jewelry can impact your outfit," and she feels that the monthly jewelry boxes will provide them with an extra bit of sparkle. As the box grows in popularity, Rebecca hopes a community of jewelry lovers develops around it.
Sparkle your brightest with FashionableTreasure here.
Liam's Little Bow Tie Box
Even before little Liam came into this world, his mom, Kortnee Rene', was dreaming up her one-of-a-kind boy bowtie box subscription. As Liam grew in his mommy's tummy, Kortnee started looking for baby bowties and suspenders to dress her dapper baby. She couldn't find quite what she wanted, so she decided to seize the market opportunity and launch Liam's Little Bow Tie Box.
Liam surprised his mom with an early arrival and fought through a challenging hospital stay. Kortnee was also tied up in a hospital bed after his birth and took advantage of this time to research all things business for her newly-formed subscription box idea. Thankfully, both mom and baby boy are doing splendidly now, and Liam continues to inspire her box ideas.
"Our box is very unique and I haven't seen anything like it," says Kortnee of the monthly deliveries of bow ties, suspenders and handkerchiefs. "We have so many different styles and patterns. Different than what you find in stores. Plus, we have sizes for every little boy, from 6 months to 8 years old." Kortnee points out that "you see lots of bows and hair accessories for little girls, but what about our little boys?" With Liam's Little Bow Tie Box, Kortnee created her own answer and hopes to share adorable boxes of boy cuteness with everyone.
Kortnee has big dreams for Liam's Little Bow Tie Box and hopes to become a familiar name brand and expand globally. As her boxes reach the mailboxes of little boys around the world, Kortnee has a goal in mind: "I want them to confidently step out with their own style, looking like a young businessman or young gentleman."
Dress your little boy in style with Liam's Little Bow Tie Box here.