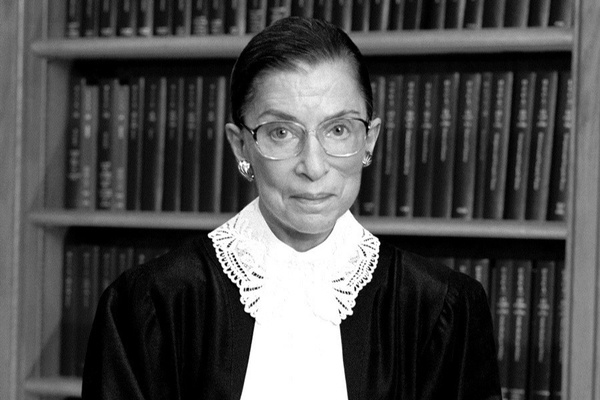 In September 1956, when she first came to Harvard Law School, Ruth Bader Ginsburg was one of nine women in a first-year cohort of over 500 students. When she passed away from complications of pancreatic cancer on September 18, 2020, Justice Ruth Bader Ginsburg was the second of only four women to ever hold a seat on the highest court of the United States, and one of the country's preeminent voices for gender equality in its 246-year history.
The legacy of Justice Ginsburg and impact of her work -- on the Supreme Court bench and elsewhere -- cannot be adequately measured.
We could look at individual statistics regarding the economic and legal status of women (and male caretakers) across America since Justice Ginsburg first approached the Supreme Court bench in 1973; at some of the trailblazing opinions (or, famously, dissents) she wrote that changed the laws and attitudes of this country again and again; or even the surprising memeification of Justice Ginsburg into the iconic "Notorious RBG" for Millennial, Gen Z, and younger generations. Any of these offer a glimpse into the impact Justice Ginsburg has had as a changemaker for gender equality in the United States. But to really understand the impact she had on this country and the people who live in it, you have to look to "We, the People" themselves.
Personally, as a little girl when Justice Ginsburg was confirmed by then-President Clinton in 1993, she meant (and still means) a great deal to me. Her work on the Supreme Court and my later awareness of that––or rather, my experience of nothing different, as if women had always served on the Court and helped decide the laws that governed the lives of ordinary Americans––contributed to my belief that you could grow up to be anything you wanted if you worked hard enough.
Like many people, I believe in gender equality because of trailblazers like Justice Ginsburg. Her impact across multiple generations, especially men and women who came of age during her tenure on the high court, is inestimable. We live in the America we do in part due to her willingness to fight for the equal rights of all citizens: regardless of gender, race, ethnicity, or religious belief.
"She stood for so much––she was so graceful and strong," says Autumn Manning, Cratejoy's COO and President. "She was so uniquely her, and driving positive values for change, that it gave me the strength to be uniquely me." When Autumn heard the news of Justice Ginsburg's passing late Friday night, she found herself thinking of her children. "Of course you think of your daughter," she says, but she also thought, immediately, of her son, who has always been a loud and proud supporter of strong women, and who loves "RBG" enough to proudly wear the "I dissent" T-shirt of her image often. "I'm so thankful that my son is growing up without questioning a woman's place, but knows women and men both can be and do anything. I really credit Ruth Bader Ginsberg for giving us this model."
As a female founder, CEO, and now COO/President in the male-dominated tech industry, Autumn often held Justice Ginsburg close as a role model of strength and inspiration, and has passed that legacy onto both of her children. "She didn't give into anger and fear," Autumn says. "I would think of her often as a representation of strength when I needed it," a model that Autumn strove to emulate in her own life. That strength showed her––and, as a result, Autumn's daughter and son––that women could do everything than a man could, regardless of gender or circumstance. There's a "pride" there, Autumn says, in knowing "that I am raising a son that believes in equality for everyone." That wouldn't be possible in an America before Ruth Bader Ginsburg.
Many of the entrepreneurs and others in the Cratejoy community spoke to Justice Ginsburg's impact on their own lives as well. She "laid down the groundwork for women like myself to keep fighting for what I deserve as a woman of color, mother, business owner, [and] everyday warrior," Shea Harris, the founder of My Me Time Box, told me. "The Notorious RBG will always be an inspiration for girls and women, no matter [their] race or social status. She fought a good long fight for women to not only have a seat at the table, but to sit at the head of the table."
As the second female Supreme Court justice in U.S. history, Ruth Bader Ginsburg was famous not only for her legal opinions (and dissents), but her personal beliefs in equality as well. When asked when there would "be enough" women on the Supreme Court, she famously responded, "When there are nine."
In the 1970s, Justice Ginsburg cofounded the ACLU's Women's Rights Project, and from there went on to legally represent a series of male clients, such as familial caretakers and widowers, who had been discriminated against by laws that assumed and enforced strict gender roles. Through these cases, she served as an advocate and trailblazer of equality for men and women––on paper and day-to-day.
"She not only broke through a glass ceiling herself," said Laura Spear, "but paved the way for other women to do the same. She was thoughtful in her words, kind, firm, and classy throughout her career… [and] I believe her inspiration helped me become the woman-owned small business I am today." Laura runs the young adult book subscription SpearCraft Book Box. "She left the world a better place than she found it, which should be the goal of all of us."
"Ruth Bader Ginsberg was brilliant, fierce, and powerful," Megan McKinnon Raynor, of Awakening in a Box, told me, echoing Laura's point that she would not be the entrepreneur––or person––she is today without Ginsburg's influence. "[She] was a constant inspiration to be courageous during opposition, to challenge social norms and to stand up for what's right. She changed what the world looks like for so many of us. Her fight was for every one of us."
Hollie Stockman, of Season of the Stitch, agrees. "She was an inspiring role model for our daughters to never give up, go for it, and stand up for what you believe, it no matter how unattainable it may seem."
"She inspired me to be a mom with a mission," said Patty Callwood, the founder of True Serenity Tea. "She made me believe I can do anything and I, too, can have a seat at the table." Patty had always feared that she couldn't start her own business because, as a mother, she had to be a "super mom and wife" as well. "But she made it clear we can do anything, no matter our gender or color. I'm proud to be an African-American entrepreneur."
Justice Ginsburg taught Rowena Scherer, the founder of the children's cooking and educational subscription eat2explore, "confidence and the willingness to fight for what's right." And her work as a Supreme Court justice inspired Theresa Haddow, founder of The Create Kit, to attend law school. "As a young woman, Ruth taught me the importance of standing up for what is right and those that are underrepresented," Theresa says. "She showed us that you can effect change. That you can see something that is wrong and change it."
Corrie Wiedman, of Wonder Crate, created one of the subscription's monthly boxes around the justice. "Growing up, girls are taught to be agreeable," Corrie notes. "RBG taught me that not only is it okay to dissent, but it is often necessary to disagree and stand up for your beliefs."
"RBG wasn't perfect, but she was a trailblazer," says Renee Powers, the founder of Feminist Book Club. "She championed women's rights in her career, but also by her very existence as a woman lawyer at a time where they were few and far between. She used her position of power to advocate for those that weren't allowed in the rooms she occupied and leveraged her position to advance the rights of so many. She was a true powerhouse ahead of her time, and I have no doubt she will continue to inspire generations."
"Ruth Bader Ginsburg lived in her present the vision many of us hold for the future. She didn't wait for that future; she actualized it," Alli tells me. Alli's subscription box, OurShelves, specializes in inclusive, diverse children's literature. "For those of us caring for young children as parents, teachers, or other special grown-ups in their lives, we speak a lot about 'fairness' with our children," she notes. "We point to Ruth Bader Ginsburg as a light illuminating the power of a life dedicated to standing up for 'fairness' for self and others."⁠
"Her trailblazing work for women's rights is important to me. And the way she made herself successful in a field that was basically all male at the time is a huge inspiration for me," says Shereen, the founder of Introverts Retreat. "RBG was quiet and serious and stoic at times but she also had a sense of humor. She was one of the most brilliant and remarkable introverts I can think of."
And Jillian, the thirteen-year-old creator of beTWEEN The Bookends, agrees. She echoes what many of us feel when she says, simply, "Ruth Bader Ginsburg has empowered women my entire life, and has stood up for people who couldn't stand up for themselves."
Thank you, Justice Ginsburg.