Product Details
Classic Candy Box - Delivered Monthly to Your Door
You'll feel like a kid in the candy store when you open your first Classic Candy Box! We have a huge variety of all the classic American candy you loved as a kid. Each month you can expect to receive full-sized, hard to find classic American candies throughout the decades. Enjoy different candies each month from the early 1900's to 1980's!
Each month you will receive a custom curated classic candy box including 1 lb - 1.5 lb of classic candy (at least 25 pieces) varying in chocolates, hard candies, chewy candies and anything in between.
Candy Box includes everything from Zagnut, Pop rocks, Candy Cigarettes, Candy Buttons, Candy Necklaces, Oh Henry, Hersheys, Rock Candy, Fruit Stripe, Candy Wax Bottles, Baby Ruth, Black Cow, Zots, Turkish Taffy, Bun, Sugar Babies, Blow Pops, Abba Zabba, Chuckles, Mallo Cups, Razzles and many more!
New Classic Candy Favorites EVERY Month!
Give your loved one moments of joy and surprise through a very unique, memorable gift
ORDER By 12/19/2022 for delivery by 12/25/22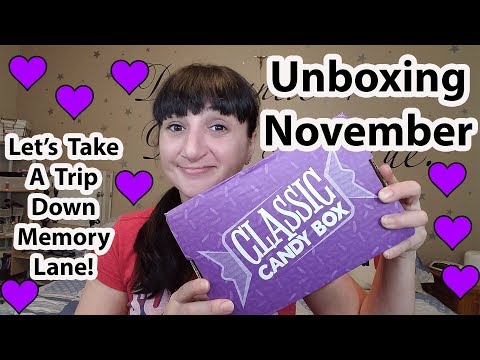 ---
Classic Candy Box is not available, but you'll love these other boxes!
Past Boxes from Classic Candy Box
---