Product Details
Your Escape Awaits!
Now you can bring all of the fun of an escape room into your own home...with a different adventure delivered every OTHER month. Work with your friends to solve riddles and conquer puzzles. BOXES SHIP OUT WITHIN A WEEK OF BEING ORDERED!!
We are the PERFECT GIFT for the sleuth in your family! Send an EXPERIENCE with our game that they will never forget.
We send a box full of puzzles, mysteries, and adventures to your doorstep. Our games are challenging and are designed for ages 10+. It feels like an entire escape room in your home, for the cost of only one person's ticket.
Our games can be played either SOLO or in a SMALL GROUP of 2-6. Each box is a COMPLETE GAME... so you don't have to wait to get the whole story. Games can take 2-3 hours to complete, but we have the game divided into chapters to allow you to take breaks and come back to finish on your schedule.
Each box comes filled with envelopes, glossy papers, and PROPS which are actually used in the game. Even the box itself is used, as the illustrations inside become the game board for your adventure!
Use our website to input codes and gain access to audio/visual elements as you play. All of our puzzles fit the theme and the website helps the game come to life!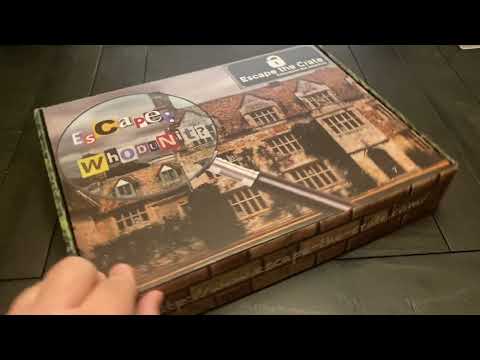 ---
Current Box from Escape the Crate
CURRENT BOX - Escape Atlantis
In this massive game, there are 3 chapters to play within one box! Dive down to the depths to search for the infamous sunken city of Atlantis. Legend tells that there is a power source at the center which can raise the city out of the depths again. It won't be easy to find, however, and there are rumors of a giant squid who guards the city. Let's hope you are clever enough to find the city, raise it, and escape in time!
---
Past Boxes from Escape the Crate
---
More from Escape the Crate
---
Escape the Crate appears in these collections…
---