Beautiful Discovery Box
by Beautiful Discovery
Unschool with nature's beautiful patterns! Includes natural wonders and all you need to model them and their ecosystems. Get STEM & art skills by deCODING nature! Spark awe! For a beautiful future!
Product Details
Unschool with the Beautiful Math and Art of Nature's Awesome Patterns! Share the Wonder!
Awe drives kids aged 9+ (and their adults!) to learn math, art, science & code, in a beautiful way, deCODING nature's patterns. Includes natural wonders & all you need to model them with art, math, and code. Each month's box has a webpage full of videos and interactive models. Perfect for enrichment, homeschooling, unschooling or just for fun. Discover deep patterns & beautiful math underlying nature's diversity. STEM made beautiful.
A monthly kit of adventures exploring beautiful patterns of life, from the perspective of all STEM and STEAM subjects
Our eco-games, code, origami and art simulate spirals, stripes, flocks and other patterns in biology, ecology, or behavior. See the patterns also in natural wonders, such as real pine cones, shells, minerals, leaves, all included in the boxes
Each Beautiful Discovery box comes with art materials and drag-and-drop block code for modeling the included natural wonders, lessons for an adult, teen alone, or preteen with adult guidance. Ages 9 and up benefit most
Each box bursts with a months+ worth of beautiful discoveries. Go deeper with 90+ videos on modeling nature's patterns for scientific or cinematic film, VR & predictive modeling, or other arts & sciences
Like a forest walk or museum visit, Beautiful Discovery is accessible to all ages, yet endlessly stimulating the deeper one goes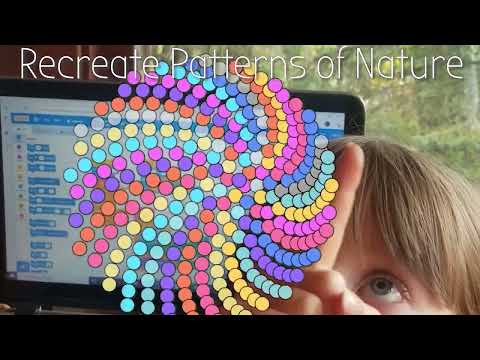 ---
Current Box from Beautiful Discovery
Frozen Fractals: deCODING snow patterns
Explore fractal patterns of snowflakes, frost fern and crystals. Draw those patterns on a scratch board. Model them with simple drag and drop blocks. Make snowy frost fern salt crystals in minutes. Look deeply at nature's fractals. Examine the simple rules that give rise to frozen fractals and similar life patterns, like trees and ferns. See that pattern on the included snowflake obsidian. All needed materials included.
---
Past Boxes from Beautiful Discovery
---
Beautiful Discovery appears in these collections…
---