Product Details
MEL Physics | Hands-on experiments for kids
MEL Physics is a monthly subscription box with safe and exciting physics experiments for children between the ages of 8+. Every month you receive a kit with 3 exciting experiments. The subscription is also supported by the MEL Science mobile app and VR technology. All experiments contain detailed descriptions and exciting assignments.
EVERYTHING YOU NEED: You'll receive a new kids science kit by the 23rd of each month. Each box subscription contains three exciting science experiments and all the necessary equipment to conduct each experiment multiple times.
HANDS-ON SCIENCE: Your first science kit for kids covers polarization and the nature of light. Obtain darkness from two transparent films, create a polarized light mosaic, and reveal stresses in materials that are invisible to the unaided eye.
NEW TOPIC EVERY MONTH: Bend metal with water, make metal cups and pencils levitate, build your own vacuum chamber and conduct many more exciting experiments with over 20+ different kids' science kits for ages 8–12 in the MEL Physics subscription.
LEARN SCIENCE THE FUN WAY: visual step-by-step instructions guide you through fun science experiments for kids and the underlying science. Get lifetime access to hundreds of DIY kits, science facts, articles, and news in the MEL Physics app.
AWARD-WINNING: MEL Science was named BETT Innovator of the year and received the EdTech Cool Tool award as the best VR/AR tool of 2020, plus positive reviews from well-known media outlets such as Forbes, The Guardian, Toys as Tools, and more!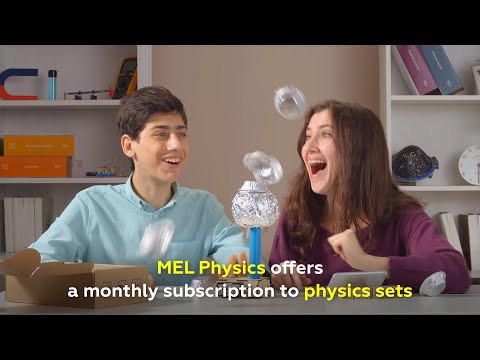 ---
MEL Physics — Science Experiments Subscription Box for Kids DIY Engineering Kit Learning & Education Toys for Boys and Girls STEM Projects Ages 8+ is not available, but you'll love these other boxes!
Past Boxes from MEL Science
---
MEL Physics — Science Experiments Subscription Box for Kids DIY Engineering Kit Learning & Education Toys for Boys and Girls STEM Projects Ages 8+
by MEL Science