Product Details
MEL Chemistry | Hands-on experiments for kids
Every month, subscribers receive a set containing all the necessary equipment, materials, and reagents they will need throughout the subscription. MEL Chemistry sets contain 2-3 experiments. The subscriptions are supported by VR technology and the MEL Science and MEL VR mobile apps.
EVERYTHING YOU NEED: You'll receive a new kids science kit by the 23rd of each month. Each monthly subscription box contains three exciting science experiments and all the necessary equipment to conduct each experiment multiple times.
HANDS-ON SCIENCE STEM: Your first chemistry set covers electrolysis and ion-exchange reactions. Obtain tin crystal trees from a transparent solution, grow a tin hedgehog from a zinc pellet, and learn the science behind it! Two experiments inside.
NEW TOPIC EVERY MONTH: Obtain a tin crystal tree from a transparent solution, burn hydrogen foam, ignite iron, and conduct many more exciting experiments with over 20+ different STEM projects for kids ages 10 and up in the MEL Chemistry subscription.
LEARN SCIENCE THE FUN WAY: visual step-by-step instructions guide you through fun science experiments for kids and the underlying science. Get lifetime access to 70+ VR lessons, 400+ DIY experiments, science articles, and news in the MEL Physics app.
AWARD-WINNING: MEL Science was named BETT Innovator of the year and received the EdTech Cool Tool award as the best VR/AR tool of 2020, plus positive reviews from well-known media outlets such as Forbes, The Guardian, Toys as Tools, and more!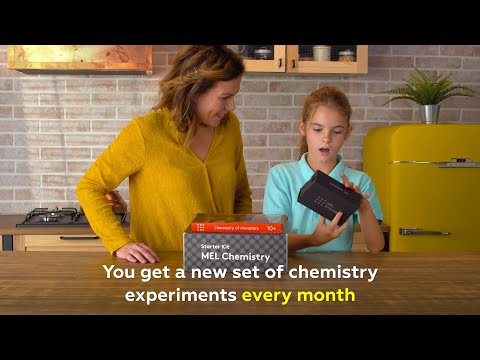 ---
MEL Chemistry — Science Experiments Subscription Box for Kids DIY Educational Kit Learning & Education Toys for Boys and Girls STEM Projects Ages 10+ is not available, but you'll love these other boxes!
Past Boxes from MEL Science
---
MEL Chemistry — Science Experiments Subscription Box for Kids DIY Educational Kit Learning & Education Toys for Boys and Girls STEM Projects Ages 10+
by MEL Science