RockingCare is currently sold out!
🍁4 Seasons Box🍁
by RockingCare
Lovingly, professionally packaged to improve the wellness of aging loved ones with cheerful items each season! FALL BOX IS SOLD OUT. Winter Box coming soon!
Product Details
Cozy quarterly (grand)parent gift box delivery!
Each box is packed with items that improve cognitive function and quality of life. How do we know? Because each box=smiles which are proven to help reduce stress response, boost the immune system, lower blood pressure, release endorphins and even help us live longer! Everyone loves RockingCare boxes! #TreatOthers 💕 Fall 2022 Boxes ship 9/28/22!
Wooden crate included *Professionally owned/operated/curated *Handwritten message included in every box *Personal photos professionally printed and included free
Free Shipping *Cancel Anytime *Priority Shipping *Each box unique *No two boxes the same
Therapist owned and operated *Family small business *Safety precautions taken with all packaging
Boxes are especially good gifts for homebound adults, adults in long-term care, skilled nursing care, assisted living or anyone in need of a bit of cheering up.
Each box valued at over $100, monthly cost average only $22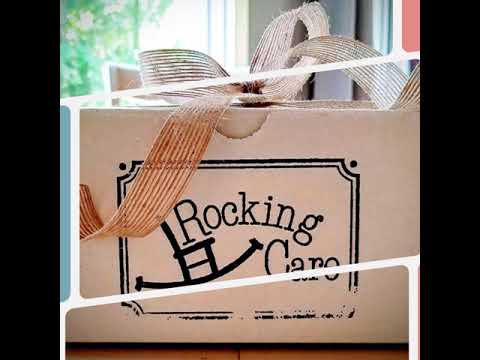 ---
Sneak Peek
Shipping Now! The "4 Seasons Box"
RockingCare's seasonal boxes delivered to your loved one wherever they may be, four times per year. These boxes ship FREE, ship quickly, and will delight every 12 weeks with sights, feels and scents that fit the changing seasons. Fall color! Winter coziness! Spring renewal! Summer fun! Each filled to the brim with simple treasures sure to bring a smile. 🍁 Fall Boxes begin shipping 9/28/22. Pre-orders being accepted now. Spring and Summer boxes sold out! Thank you!
Order by October 21st to get this box!
---
Customer Questions (0)
Have a question?
Ask the community and get help from thousands of informed subscribers.
Reviews (6)
Love the Rocking Care crate!
Feb 24, 2022
I can't tell you how much my father-in-law loves his Rocking Care Box! Everything was personalized for him along with the family pictures I provided and he said he "can't stop smiling while looking at them!" He loved the compression socks I suggested as he has neuropathy in his feet. Again - thank you Rocking Care - you rock!!
Leslie McDaniel
So creative!
Feb 24, 2022
The Rocking Care box sent to my friend in a nursing facility was the highlight of her week! There was so much thought, creativity and personalization in this very special gift......even a hand-painted "I am Loved" sign with a cute rope handle we placed on her door. Thank you, Rocking Care, for the beautiful gift you assembled with her needs in mind. I will definitely treat my friend and others with one of your creations in the future.
RockingCare said...Mar 22, 2022
Hello Sharon—knowing the items your loved one received brought joy is why we do what we do. We make every effort to make these care packages as personal as possible while keeping costs down. Increasing costs of shipping and shortages of products can pose challenges but we are committed to you and your loved ones and will do all we can to help spread ❤️. All our best to you and yours.
Disappointing!
Mar 20, 2022
Gwen M.
Subscribed for 2 months
Cancel my subscription. I have notified Rocking Care group. Will contact my credit card if I am charged again.
RockingCare said...Mar 21, 2022
Thank you Gwen for your review. We regret you are not happy with the box you received. Our boxes are known for their personalized, handmade and seasonal items, so boxes change with each shipment. Our photos reflect examples of items representative of the seasons and those included vary for many reasons however we take pride in each box always being valued over $100. Making our box recipients smile is top priority so we are very sorry to hear yours did not meet your expectations as your crate was inadvertently left out of the package. We have reached out to you via email to provide further assistance and I have issued you a full refund.
⭐️⭐️⭐️⭐️⭐️ I love this box.
Apr 19, 2021
This box was the perfect gift for my mom since I would've never been able to send something as nice as this for less $! I could tell a lot of thoughtfulness went into making it just right and there were a lot of things in there! The wooden crate will last many years and her happiness is priceless so thank you from the bottom ofmy heart for what you do.
RockingCare said...May 13, 2021
Nothing brings us more joy than knowing our boxes are doing what they are meant to do--make people smile! Thank you for your very kind words.
Perfect Gift for Mother's Day!
May 12, 2021
I had no idea what was in the beautiful box when my daughter gave it to me for Mother's Day! It was a beautiful display of sweet treats just for me, encouraging notes and special gifts! Everything about it was so special as if it were hand picked for me! I love that some of the gifts were perfect for right then, such as the candy, some were maybe for later such a the personal items, and then the others that I can display for a long, long time! It is the gift that will keep on giving! You can tell a lot of thought went into making such a special gift and I can't wait to order some myself to send to friends near and far!
I would love to see the choices expanded to include a get well box!
RockingCare said...May 13, 2021
Wow! Thank you for taking the time to say such kind words. It was a pleasure to celebrate you and it's wonderful to know you loved the gifts inside your box. Your idea about a Get Well box has been heard loud and clear and we completely agree it would be a perfect addition to our product choices! Check our website myrockingcare dot com and send one today!
Such a Great Box for the Elderly!!!!❤
Mar 14, 2021
My mother LOVE THIS!!!!! She is 90 years old and usually easily impressed with much. But she thought this box was so cute!! Thanks!!!! I hope I got subscribed, because I see nothing about even receiving this box on my Cratejoy account.
RockingCare said...Mar 17, 2021
Hi Darcy~ We are SO happy to hear your mother loved her box! It's a joy to know she was impressed and we are humbled by your recommendation of the box for senior adults. We are sorry you had difficulty accessing your account and encourage you to seek help on Cratejoy's customer support page regarding subscriptions. As of the date of this reply, your subscription is all set and your mom will be thrilled again in approximately 12 weeks! :)
Photos from reviews of 🍁4 Seasons Box🍁…
---
Past boxes from 🍁4 Seasons Box🍁…
---
Customers who bought this also bought...
RockingCare appears in these collections...
---
Shipping Policy
💌 FREE Shipping I 🔎Order Tracking I 🏃🏽‍♂️Efficient Feedback I Ships on season ship date or within 1-5 days (of each season's ship date if ordered on or...
Cancellation & Refund Policy
Subscriptions automatically renew. You can cancel at anytime.
Questions for RockingCare?
---