Boxy Momma is currently sold out!
Monthly Mom Box
by Boxy Momma
The monthly box just for motherhood! Filled with fun, love, and support for mom life!
Product Details
For moms struggling through motherhood! We get it!
The perfect monthly treat for MOMMA! A box of fun, a reason to smile, and a moment to celebrate motherhood every month! We feature an awesome themed care package, thoughtfully filled with fabulous, practical and *sometimes sweary* items to help you through motherhood, every month! Boxes include fun, self care, and support just for MAMA!
MONTHLY FUN-With 3 plan levels to choose from! Cancel anytime!
CELEBRATE MAMA- Momma Boxes are filled with 5-7+ goodies to help bring some extra joy & fun to motherhood! Boxes include self-care items, cleaning hacks, home decor & more!
THE PERFECT GIFT- Add a personalized certificate before your order ships AND a gift message included with your first gift box!
WE CARE- A portion of our sales is donated to mental & women's health charities and organizations!
BUZZED ABOUT- Featured in BuzzFeed, Good Housekeeping, Yahoo, Parenting and more!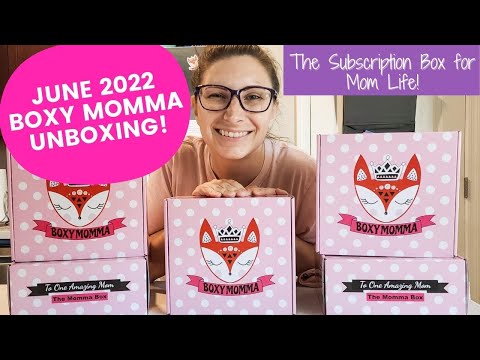 ---
Sneak Peek
October 2022- BOO BEES
It's fall time and that means our SPOOKY Momma Box is here! This month our theme is BOO-BEES! Filled with goodies to help mom get in the fall spirit! PLUS a portion of every box sold this month will be donated to breast cancer support! Order by September 30th! Boxes ship October 5th & 6th!
Order by September 30th to get this box!
---
Customer Questions (4)
Q: Can you give out where you get the face masks from.. I got a face mask in my January box and love it and I wanted to see if I could get another one! Asked by Kayleigh L., March 2021
Boxy Momma answered...March 2021
Hey Kayleigh! I am SO glad you loved your face mask! It came from the brand Seriously Shea!! (They also donate a portion of all sales to mental health charities! Whoot whoot!) 😊
---
Q: Do u ever have candles in the subscription box? Asked by Lori B., September 2020
Boxy Momma answered...September 2020
So funny you ask Lori!! Great minds must think alike! Yes! Our next box will be including a candle! We have also featured them in the past as welland we, may again as we head towards the holidays!! ;) Great question! Thanks for asking!! :)
---
Q: My kids are 16, 14, and 5. Will I get any use out of this box? Asked by Renee K., September 2020
Boxy Momma answered...September 2020
Hi there,
Great question! Yes, you will get use from our box. Our box is great for any stage of motherhood. We try to make moms feel valued & loved and understand they're not alone in the struggles we all endure. We hope will give us a try, thanks for reaching out!
---
Q: Hey! There is a cute shirt in one of the photos, but when I subscribed it didnt ask me about any sizes. How will I get the right size if something like that comes please?? TY!!Asked by Anne H., March 2020
Boxy Momma answered...September 2020
Hi Anne! So sorry our answer somehow never got posted! We just recently added shirts and are adding an official box+shirt option coming in November! A survey with measurements is now included when you go to subscribe! Thanks so much for your interest! Have a fabulous day!!
Reviews (127)
Reviews for this product (46)
Reviews for this seller (81)
For All Mom's
Feb 12, 2022
Breanne D.
Subscribed for 1 month
I absolutely loved this box. Not only did it come with things that I need, they were beautiful and uplifting💕!!
February Box
Jan 19, 2022
Andrea S.
Subscribed for 1 month
Super cute stuff, love the candle, bag, chocolate bar and really everything else. Thank you❤️❤️
So excited to use everything!!
You get me Boxxy Momma
Nov 18, 2021
Heather P.
Subscribed for 5 months
This is my fave box ever! As a Mom of 4, it is so exciting to get something just for ME each month. The products have always been geared to my taste or giftable, if not. I will not be canceling any time soon!
Every Momma needs this.
Apr 16, 2021
Jennifer W.
Subscribed for 1 month
I love getting my Boxy Momma box. I love wearing the shirts. They are so comfortable and I always get compliments. April box was awesome! I wore my hat the day I got it. I love hats great for the beach and rainy days. I love the setting powder it is the bomb! I have several friends buying it now. The lotion smells wonderful not a heavy scent but a very clean.
Nice for moms
Apr 11, 2021
Was expecting maybe 1 or 2 more small items but I did enjoy what I received! The tshirt is super soft and the color is so cute.
Outstanding Service, Excellent Gift
May 17, 2021
Laurie C.
Subscribed for 3 months
I am so incredibly impressed with Boxy Momma. The products curated are always outstanding. Service is very professional. I bought this as a gift for my daughter who loves each box. This is absolutely worth every penny.
First box
May 14, 2021
Noel M.
Subscribed for 21 days
I just received my first box and I live everything about it! All the things in this box was something that's interested me. I have already looked up 2 products to buy more. You have to get this box!!!
Perfect Mom Box
Mar 24, 2021
Kirbi Z.
Subscribed for 30 days
I have been subscribed to Boxy Momma (off/on depending on my monthly budget) for the last year and a half. I absolutely love everything about these boxes. Sarah does a wonderful job curating them with so many fun products - and such a range! Everything from accessories to sweets to makeup! You can tell she puts a lot of work into personalization. One of my favorite boxes!!!
GREAT pick by my kiddos
Feb 21, 2021
Cara F.
Subscribed for 3 months
I setup subscriptions for my kiddos for the holidays and decided to have them pick one for me. They picked "Boxy Momma" cause they loved the image, so I signed up.
I'm so glad this was the one they decided to pick! I started with a 3 month trial to check it out - definitely won't bother checking another one out, cause I love this one ❤️
Packaged nicely, love the sheet that breaks down what everything is with suggested retail price, and have enjoyed the items in each box! There are things I'd never have bought for myself, but love having because it makes me take the time to use and enjoy them - get in some self-care that I usually wouldn't have taken otherwise.
Thank you Sarah and Boxy Momma!
Loved it
Feb 19, 2021
Paige M.
Subscribed for 14 days
Loved my box! I will definitely be ordering another one!
Photos from reviews of Monthly Mom Box…
---
Past boxes from Monthly Mom Box…
---
Customers who bought this also bought...
Boxy Momma appears in these collections...
---
Selling Fast! - Only a few boxes left. Buy soon while supplies last.
Shipping Policy
Orders placed today ship by October 14
Boxes ship on between the 4th-6th of every month
Renews monthly on the 14th
Our next box ships September 6th! Welcome Boxes ship within 2 business days! Boxes ship between the 4th-6th of EVERY month! Order by the LAST day of the month to...
Cancellation & Refund Policy
Subscriptions automatically renew. You can cancel at anytime.
Questions for Boxy Momma?
---