Camp Wildcraft Art Box is currently sold out!
Camp Wildcraft Art Box
by Camp Wildcraft Art Box
Unique art projects that build creativity, fine-art skills & connection with the natural world. WE'RE ON BREAK WHILE WE RUN SUMMER CAMP! SEE YOU IN THE FALL!
Product Details
For kids and teens who love art and nature!
Our Art Boxes feature imaginative projects and quality materials that build fine art skills in kids and teens. Designed with care by the artist/educators at Camp Wildcraft, each box includes links to video lessons, and encourages young artists to explore and find inspiration in the natural world.
With each new box, kids add more supplies and techniques to their "home-base art studio," and creatively grow as young artists.
Homeschool families love our Art Boxes--build your home art program with our immersive, high level content, materials and video lessons.
Designed for ages 6 through early teens, with different options and levels of instruction. (Younger children may need some guidance.)
These are not "cookie-cutter" crafts, but thoughtfully designed projects which encourage creativity and self expression.
Our Family "Add-On Art Pack" provides additional materials for a sibling or adult to complete the project as well! It is shipped in the same box; some materials are shared.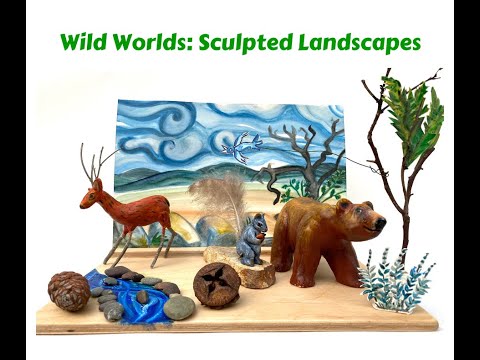 ---
Customer Questions (2)
Q: Do the video lessons teach art skills? Asked by Shari D., January 2022
Camp Wildcraft Art Box answered...January 2022
Yes! The short video lessons (along with the printed instruction sheets) both explain the steps of the project, and teach a variety of drawing, painting, sculpting and mixed-media art techniques appropriate to each project. Each month young artists develop new art skills, learn about new artists and techniques, and build their in-home art studio with a growing collection of art supplies and techniques they can keep exploring and using.
---
Q: What age is this box best for? Asked by Shari D., January 2022
Camp Wildcraft Art Box answered...January 2022
This Art Box is great for ages 6 through 14. The projects are designed so that both younger kids AND older kids can learn new art skills, work with quality art materials, have fun exploring their creative imagination, and come away with a unique art project they feel proud of. Younger kids may need some help with instructions and set up for the projects. Tweens and teens (even adults) will enjoy this Art Box.
Reviews (7)
Fantastic box!
Jan 30, 2022
Sarah A.
Subscribed for 22 days
Really fantastic art box — the quality of the finished pieces are heads above other similar boxes. Really fantastic and even my 7 year-old was able to work totally on her own.
Nov 20, 2021
Your Art Boxes have the most amazing quality art projects. They are so beautifully made. Opening them each month is such a gift. My daughter collects nature treasures and through these art boxes she's has had a way to use them to make art. I am a big fan!
Nov 05, 2021
The materials are great, the prompts are great, I love the way it's scaffolded for a number of different comfort levels with art.
Oct 30, 2021
These projects are great for showing my 11 year old daughter the process of making art. My daughter has worked on every project. Sometimes she takes them outside to be inspired by the nature around us as she works. Every box has been extremely thoughtful, fun and well designed. The step by step instructions and videos provide guidance and there so so much room for kids to grow both their skills and creativity.
Oct 18, 2021
My daughter's very focused when she enjoys something, and she worked on this project for three hours today! She loves the sketchbook and has been drawing in it daily. My husband and I are usually on the computer all day so it was great to do this with the kids!
Sep 27, 2021
We love the art boxes! They are so beautiful and wonderfully put together. It's been amazing. Seriously, it has kept my 6 year old daughter's interest all day. And she's not done.
Sep 21, 2021
​I've become a new homeschool mom this year and needed to incorporate more art lessons into my kids' weekly schedule. I started searching for monthly project boxes to inspire them. I showed them probably a dozen to choose from and yours was the clear winner! The videos are perfect, they kept rewinding them to learn more! W were so impressed how easy it was to jump into these creative projects. They are packaged beautifully and provide both art lessons and a creative process that my kids really responded to.
---
Past boxes from Camp Wildcraft Art Box…
---
Camp Wildcraft Art Box was featured in these articles…
---
Camp Wildcraft Art Box appears in these collections...
---
Shipping Policy
First box ships within 7 business days of your order
Following boxes ship around the 15th of each month
Renews monthly on the 11th
NO EXTRA SHIPPING COSTS! Shipping within the continental U.S. is included in the cost of the box.
Cancellation & Refund Policy
Subscriptions automatically renew. You can cancel at anytime.
Questions for Camp Wildcraft Art Box?
---