Product Details
Vintage Treasures for Your Creative Projects
Each month you'll receive a selection of vintage materials such as postcards, letters, stamps, photos, recipes, advertisements, maps, buttons, lace, ribbon, rick rack, and much more. Also in each box: a handmade item ready to use in your journals -- a tag, pocket, embellished paper clip, set of charms, etc. ... Plus little surprises along the way!
A steady stream of 100% vintage supplies for your junk journal or art projects
Each box also includes a handmade, ready-to-use junk journal component (tag, pocket, embellished clip, etc)
Gift subscriptions available -- perfect for your favorite junk journaler, scrapbooker, mixed media artist, or homeschooler
Packaging includes handmade upcycled envelopes, paper bags, origami boxes, and more
Choose a 3-month, 6-month, or 12-month prepay option for discounted pricing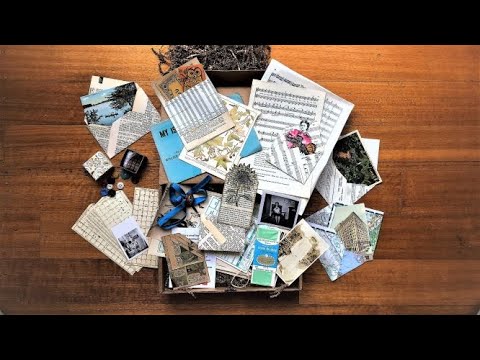 ---
Reviews (26)
Deja vu moments
Apr 14, 2022
Kathryn L.
Subscribed for 5 months
It was okay, just so much the same as the previous month I had a true deja vu moment.
As I've wondered where you have found things and cut things out and then created some thing to hold little things and then packed everything I'm aware of how much time it takes, but yet, if every month is basically the same, it causes me to wonder if I want to continue. Then I think, well do I have the time to gather this each month?
Fantastic Box!
Jul 14, 2021
Amy W.
Subscribed for 21 days
I just got my first box from Cheery Bird and I LOVE IT!! There are so many AMAZING true vintage odds and ends. I also have to mention!!! You did a road trip box for me (adore!) and I am from Pennsylvania (loved that you added that personal touch ♥) but I was SO happy to see book reference cards that coincidentally had info about Saudi Arabia ( My newlywed husband is from there!) I will be sticking with this subscription and recommend it to anyone and everyone who loves vintage ephemera! THANK YOU!!
Cheery Bird Vintage said...Jul 18, 2021
We're so excited to hear that you loved your first box, Amy! We truly do have the best time curating each box. Happy crafting!
Cheers,
Larissa and Vickie
Perfect for Art Journaling
Feb 14, 2022
Amy S.
Subscribed for 23 days
I love art journaling and have been looking for some new material. This box is FANTASTIC! It was clear that a lot of thought was put into it. The materials will be fun to work with, and it will last quite awhile. Thanks for this blast from the past!!
Cheery Bird Vintage said...Feb 14, 2022
Thanks so much for your review, Amy! We're so glad to hear you're loving your subscription. Curating these boxes each month brings us so much joy, and we're always excited by the thought of these lovely old materials being turned into creative pieces by talented artists like you.
Cheers,
Larissa and Vickie
Disappointed
Mar 17, 2022
Stephanie W.
Subscribed for 4 months
Overall, I was disappointed with the contents of each box in my 3 month subscription. It seemed as though most of what was shipped to me was someone else's leftover bits of things that they did not want to use in their craft projects. I will not be subscribing to this box again.
Cheery Bird Vintage said...Mar 17, 2022
We're sorry to hear you weren't happy with your subscription. We take great care to hand-curate an assortment of vintage paper and trim items in each box each month. We also take time to create and include handmade items to inspire our fellow junk journalers and artists and provide finished items for their projects. Again, we're sorry our subscription did not meet your expectations but appreciate your feedback, as we are always striving to improve our product.
Fantastic
Dec 26, 2021
I was blown away by all the things inside. It felt like a time capsule. So interesting and I love journalism. Can't wait for the next box. Great gift
Cheery Bird Vintage said...Dec 27, 2021
Hi Maria, we're so glad you loved your first box! We have tons of fun curating these boxes for exactly the reason you mentioned...it's like going back in time. Have fun creating with your vintage ephemera.
Cheers, Larissa and Vickie
Very impressed
Jan 06, 2022
Tonya S.
Subscribed for 1 month
I received a vintage box from Cherry Bird for Christmas! It was wonderful! They picked really cool items and displayed them so neat. The handmade item is gorgeous. I think there was more than one. Buttons were in a bag made from paper, small items in an envelope made from paper and stamps were also in an envelope made from paper.
Cheery Bird Vintage said...Jan 07, 2022
HI Tonya! We're so pleased to hear you loved your gift. Hopefully the items in your box will inspire you to create some beautiful artwork. :)
Cheers,
Larissa and Vickie
Vintage Fabulousness!
May 05, 2021
Renee B.
Subscribed for 12 days
This is by far the best paper/journaling box I have ever received. It is filled with lovely vintage papers, photos, postcards, map and music paper, pages from vintage books, vintage sewing supplies, and all sorts of lovely, classy pieces. Way to go, ladies! I loved this box. It is packaged beautifully!
Cheery Bird Vintage said...May 06, 2021
Thank you for your truly wonderful review, Renee (and for including photos)! We're so happy you enjoyed your box...we're imagining all of the wonderful things you'll create! Cheers, Larissa & Vickie
Lovely box and love the handmade things!
May 06, 2021
Genevieve S.
Subscribed for 1 month
Love this box! The handmade origami paperclip dress is amazing and I can't wait to journal with everything! Thank you so much!!
Cheery Bird Vintage said...May 07, 2021
Thanks for taking the time to review our box, Genevieve! We're glad you enjoyed it and are excited to know you'll be making good use of everything in your journals.
Cheers, Larissa & Vickie
Wish there had been more items
Sep 12, 2021
Tammy B.
Subscribed for 1 month
I loved this box of treasures but I expected more to be included. I am not sure I can justify the cost for what I got.
Cheery Bird Vintage said...Sep 12, 2021
Thank you for taking the time to review our box and for your insightful feedback, as it helps us ensure that our subscribers receive a wide variety of vintage ephemera in each box at a great value. We'll continue to evaluate future boxes, and thanks again!
Mostly book pages
Sep 23, 2021
Janet C.
Subscribed for 2 months
I would have liked to see more variety. Each box contained an overwhelmingly amount of book pages. I can see how this would be super helpful if you are just starting out though.
Cheery Bird Vintage said...Sep 23, 2021
Thank you, Janet, for taking the time to review our box and for providing your honest feedback. We are always looking to create the best experience for our subscribers so we greatly appreciate your input.
Cheers,
Larissa and Vickie
Photos from reviews of Junk Journaler's Delight Box…
---