Cold Brew Club is currently sold out!
Cold Brew Club Monthly Subscription
by Cold Brew Club
Café quality Cold Brew shipped straight to your door every month.
Product Details
Cold Brew Club - A Better Way to Caffeinate
Creates 38 cups of Cold Brew Coffee. Only 1.55/CUP Keep an entire month's supply of our monthly brew in a convenient, fridge friendly pouch. Simply dilute 2:1 with water (hot or cold) and enjoy! Shipped in a certified carbon neutral model.
New recipes developed and released every 30-60 days.
Create up to 38 cups from a single pouch
Premium 100% arabica brew arrives at your door, ready to be enjoyed.
Climate Neutral Certified
Only 1.55/CUP for Premium Cold Brew Coffee. Save over 40% from the Café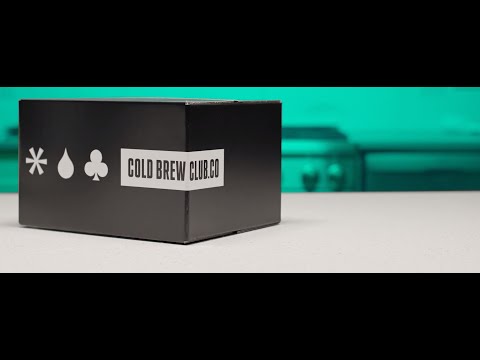 ---
Customer Questions (6)
Q: Is it organic or gluten-free? Asked by John B., September 2020
Cold Brew Club answered...December 2020
Our signature brew is certified organic and gluten free :)
---
Q: Is it ground or whole bean? Can we have the opposite?Asked by John B., September 2020
Cold Brew Club answered...December 2020
The concentrate is pre-made! Meaning all you have to do is add water, like an instant-coffee!
---
Q: How much coffee comes in a box?Asked by John B., September 2020
Cold Brew Club answered...December 2020
A single Cold Brew Club Pouch contains 3L of concentrate, which dilutes up to 9L (2.5 Gallons) of regular strength cold brew.
---
Q: When is my subscription billed?Asked by John B., September 2020
Cold Brew Club answered...December 2020
We bill and ship every 30 days from the day you sign up.
Reviews (2)
Nice Cold Brew
Jul 14, 2020
Hong N.
Subscribed for 9 days
Very interesting coffee, arrived fresh. Has a distinct nutty taste, a little sour, but without leaving an acidic aftertaste
How do you drink your Mike's Cold Brew?
Jun 19, 2020
Joanna A.
Subscribed for 25 days
I am an avid cold brew drinker and after seeing the care, effort, and love Mike put into making that creative video, I thought, "I have got to give this product a chance!"
I live in an apartmentment building and it appears to me that me that perhaps
due to the current health crisis we are facing, there appears to be a huge upsurge in the delivery of shipments as all my neighbors seem to be ordering everything online. Anyway, when I received notification by email that my cold brew had arrived and I went to collect my shipment, there was a mound of boxes as if it were the day before a major gift giving holiday. However, due to the distinct and clearly labeled box that Mike's cold brew is packaged in, I felt grateful that I was immediately able to identify which box was mine. The cold brew arrived COLD (as it was surrounded in dry ice). Mike's Cold Brew tastes fantastic (in my combination of oatmilk, coconut milk, and ice). What a wallop of caffiene! Unfortunately, it was soon pointed out to me, I already have a stack of cold brew that needs to be consumed BEFORE I buy more, which is the reason why I am putting this subsciption on hold (for now). I am eager to renew this subscription as soon as I really do NEED (not want) more. So, as I mentioned earler, I drink my cold brew with...
---
Past boxes from Cold Brew Club Monthly Subscription…
---
Customers who bought this also bought...
Cold Brew Club was featured in these articles…
---
Cold Brew Club appears in these collections...
---
Shipping Policy
We ship our boxes within 2 business days from receiving your order. Your next box will ship on the same day of the month you ordered. Example: Mike ordered...
Cancellation & Refund Policy
Subscriptions automatically renew. You can cancel at anytime.
Questions for Cold Brew Club?
---