Earthlove® is currently sold out!
Seasonal Earthlove Box
by Earthlove®
Sustainable and ethical wellness lifestyle items that give back, As Seen in Rolling Stone & Oprah
Product Details
Mindful Living. Happy Planet.
Have an Earthlover in your life or need a little self care? Earthlove is an award-winning eco wellness subscription box delivered to your door each season. Each box is packed with the best ethical, mindful, and sustainable self-care and home products that are good for you and the planet. All boxes also support an environmental cause.
LIFESTYLE: Discover 6-8 full size eco-friendly products and one book delivered to your door each season, The box includes items spanning different categories like snacks, tea, wildcrafting, wellness, apothecary, aromatherapy, beauty, gardening, home decor, apparel, accessories, and more! Box value is always $120+
HIGHEST ECO STANDARDS: We source products that are environmentally and ethically responsible, including zero waste packaging, natural ingredients, organic and non-GMO, gluten-free, beegan/vegan, and fair-trade. Earthlove also supports artisans, makers, and small businesses in the US & Canada.
ECO CHALLENGES: Each box includes a guide with tips and eco-challenges written by a natural beekeeper and regenerative farmer for cultivating a more sustainable life.
LOW IMPACT PACKAGING & SHIPPING: Our boxes and packaging materials are 100% post-consumer, compostable, plastic-free, and created with environmentally-friendly algae-based inks—the most sustainable, non-harmful ink on the planet! We also include carbon neutral shipping on all orders.
GIVE BACK: Earthlove is a proud member of 1% for the Planet. In addition, a portion of the proceeds from each box is donated to a featured environmental non-profit working to conserve and protect our fragile ecosystems. In the past, we have supported monarch and pollinator conservation, coral reefs, wildfire relief in the Amazon and Australia, reducing plastic pollution in our oceans, and other conservation efforts.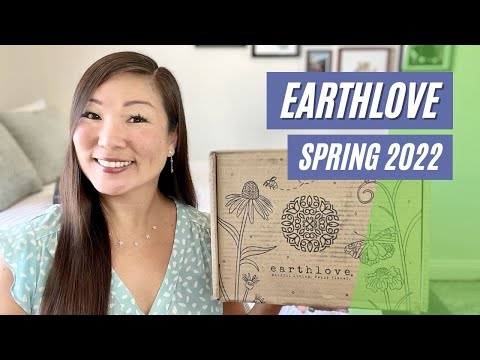 ---
Customer Questions (10)
Q: Hi, Do you by chance happen to sell past boxes, I'm looking for the box w/the book about animal lovers. Thanks, Amanda Asked by Amanda H., September 2019
Earthlove® answered...September 2019
Hi Amanda,
Our boxes always sell out during the season, but we do have "Mystery Boxes"
available on our main website packed with items from past boxes. At the
moment, we still have the book and some of the items from the summer box in
stock and can put together a custom curation for you :)
Green blessings,
Serina, founder of Earthlove
---
Q: I'm looking for a box that supports small businesses in the United States. Does this box include items made in China?Asked by Delilah S., May 2020
Hi Delilah,
Serina, the Founder of Earthlove here. Our box primarily supports artisans and small eco-conscious businesses in the US and Canada as well as other sustainability initiatives around the world (e.g., in the past we have supported The Denim Project fighting fast fashion in Guatemala and farmers in Afghanistan overturning the opium crisis with sustainably-farmed saffron). Our products do not come from China though occasionally one of our makers will use an ingredient from there (such as bamboo). We are...
---
Q: Is there any proof of "a portion of the proceeds from each box is donated to a featured environmental non-profit working to conserve and protect our fragile ecosystems"? Any links or anything else?Asked by E V., February 2021
Earthlove® answered...January 2022
Hi EV,
We are certified members of 1% for the Planet and commit 1% of our revenue to supporting environmental non-profits. I cannot add a link here, but you can find us in the directory. In the past, we have supported The Xerces Society, the Rozalia Project, Rainforest Trust, One Tree Planted, Northwest Alternatives to Pesticides, Ocean Blue Project, Coral Reef Alliance, and others :)
---
Q: i just saw that the Fall box is open to customization but the site does not recognize me. Is that not an option for Cratejoy customers?Asked by Stephanie T., August 2021
Earthlove® answered...August 2021
Hi Stephanie!
Due to the limitations on the Cratejoy platform and the way our customization works we unfortunately can't offer it to our Cratejoy members at this time. If you have more questions about the box, please get in touch with our support team at support [at] earthlove [dot] co and we can help you out :)
Reviews (54)
Wonderful
Feb 01, 2021
Sue S.
Subscribed for 7 months
Nice assortment. I'm so happy there's finally a sustainable box!!! I would be especially interested in carbon-positive companies who create organic, plastic-free products.
I'm looking forward to reading the book and trying the toothpaste.
Gift review
Jan 19, 2021
Mandy R.
Subscribed for 2 months
Bought this as a gift and my friend loves it!
Gift
Jan 08, 2021
Katie C.
Subscribed for 3 months
This box is great . I enjoy each items and so much information for each items too.
Love Earthlove!
Dec 23, 2020
This is the first subscription box I have tried. The first one I felt was worth the money. I am always on the look out for organic/natural, cruelty free products that work well. I received my first box yesterday and was extremely pleased with the content. Was very excited with all the products. Can't wait to try them all out. I like that they send an insert with more info on the products and the companies that make them. Highly recommend EarthLove box.
Best box out there!
Dec 22, 2020
Kristen G.
Subscribed for 2 years
Absolutely love this box and look forward to it every few months! It aligns with all my sustainability, natural healing, holistic and skincare values. The magazine inside keeps me captivated from cover to cover and I use every product I have received. I have even purchased some again from the small businesses involved. I love that the box supports small businesses. Great and wonderful box! I recommend it for anyone who shares these same values!
A box that brings awareness
Sep 07, 2020
Salina V.
Subscribed for 2 months
This is a nice box, it is a good introduction into products that will help you along your eco friendly journey.
Earthlove® said...Sep 08, 2020
Hi Salina! We're so happy you're loving your EarthLove boxes! Thank you so much for the recommendation. We hope you continue to enjoy your sustainable-living journey with us!
Great products
Sep 02, 2020
Dorothy B.
Subscribed for 7 months
Love Earthlove
I love this box
Jul 20, 2020
Cindy T.
Subscribed for 5 months
I love this box. The lesser evil organic popcorn (Himalayan Gold) was great. Seasoned just right. Air popped and only 100 calories. My only complaint is I wish it had been a larger bag.
The wood (bubble) clips are easy to use and a neat idea.
The butter body balm has a lemony/citrus fragrance and leaves your skin feeling smooth and refreshed.
I don't know that I will use the sandwich bag for sandwiches but it is a cool idea with an attractive design.
Sunglasses came in wooden container and are great at blocking out the light. They aren't very stylish but they get the job done.
There are some other items I haven't tried yet nor have I had a chance to read the book yet. I'm looking forward to trying the remainder of the items I received.
Very happy with this subscription.

Earthlove Box Summer 2020 Review
Jul 15, 2020
Brittany B.
Subscribed for 11 months
This box is absolutely amazing, I am so happy with it! Everything in it was so thoughtfully curated! I adore the necklace, and have been wearing the sunglasses every day! The craft was also super cute. The box was perfect! The only minor issue is that I never got a shipping notification, but found out it was shipping via my FedEx account instead. However, once it did ship, it got here in great time, and it was such a wonderful unboxing experience. Looking forward to fall, my absolute favorite season!
Great box
Jul 07, 2020
Heidi G.
Subscribed for 3 months
One of the best curated subscriptions I have seen. Well worth the money. You should give this one a try. You won't be sorry
Photos from reviews of Seasonal Earthlove Box…
---
Past boxes from Seasonal Earthlove Box…
---
Earthlove® was featured in these articles…
---
Earthlove® appears in these collections...
---
Shipping Policy
We are no longer shipping our subscription box. See website for past available past boxes. Boxes ship 4x per year starting in March, June, September, and December. FLAT...
Cancellation & Refund Policy
Subscriptions automatically renew. You can cancel at anytime.
Questions for Earthlove®?
---