Itty Bitty Box Collectible Toys is currently sold out!
Product Details
100's of Animals to Collect, Play & Display!
What's inside is HUGE: Inspire hours of solo or group imaginative play! At Itty Bitty Box our mission is to bring back the joy, fun and many benefits of collectible toys and simple, hands-on play to kids amidst a high-tech world and complex times. No batteries, just your brain required.
The most ROARin' gift for boys and girls ages 3-11+ who are interested in learning about and exploring our world's diverse animals, wildlife and creatures. More than imagination and play, kids love to creatively display, organize and rearrange their collection as it grows!
Each Itty Bitty Box always includes one of our share & smile cards which encourages giving away one mini toy a month to experience the rewards of an itty bitty act of goodness!
No STEM all ROOTS. Give the timeless gift of old-school figurine inspired play and learning! Whether it is swimming with dolphins and alligators or a battle between the jungle and farm animals, kids' minds expand to create huge worlds with our incredibly tactile and hard to put down mini replica collectible toys.
A surprise theme each month! Ocean, butterflies, dinosaurs, farm animals, safari, insects, pets… just to name a few. FYI, 9-13 thoughtfully packaged mini toys arrive inside each month's box.
Quality manufactured with unmatched craftsmanship, you will be impressed. All figurines are non-toxic pliable ultra-durable plastic (can be bent back into shape), BPA, lead and phthalate free and can be easily cleaned with water and dish soap or are top rack dishwasher safe (with no heat dry)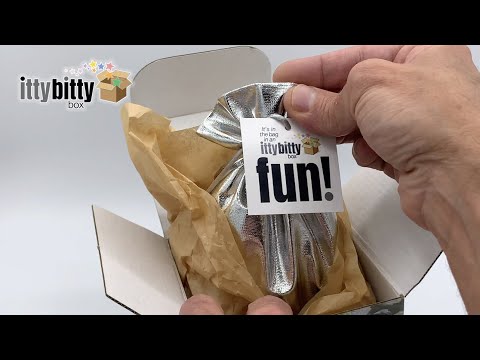 ---
Customer Questions (4)
Q: Can I change the age range for my subscription after I get the first box or as my child progresses?Asked by Mark A., September 2020
Itty Bitty Box Collectible Toys answered...September 2020
Currently we only have a one size fits all age group Itty Bitty Box subscription available. We are a young company and most certainly have plans for other Itty Bitty Boxes that will offer different toys for various age groups. For now, please feel free to contact us and we can discuss the possibility of a customized annual Itty Bitty Box subscription personalized for you.
---
Q: Are there enough supplies for 2 people to use one subscription box?Asked by Mark A., September 2020
Itty Bitty Box Collectible Toys answered...September 2020
Each month your Itty Bitty Box will contain 9-14 unique collectible toys. Our toys are meant for group play as well as individual play, so yes 2 people can easily play together. If our response hasn't clearly answered this question, please inquire further :)
---
Q: What is the suggested age range for this subscription?Asked by Mark A., September 2020
Itty Bitty Box Collectible Toys answered...September 2020
The suggested age is 3-11+. Our experience has shown that kids ages 3-9 spend the most time engaging in imaginative play and enjoying our share & smile cards, kids a little older get more out of the collection building and displaying of our toys. Honestly our toys make most people act like they are 5 year olds :)
---
Q: When is my subscription billed?Asked by Mark A., September 2020
Itty Bitty Box Collectible Toys answered...September 2020
All month-to-month and multiple-month subscriptions plus associated shipping costs are charged when you confirm your subscription order at checkout. All subscriptions auto-renew on the 11th day of the month after your current subscription expires. You can cancel your subscription at anytime which will stop any automatic billing for your next subscription payment cycle.
Reviews (3)
Endless play
Feb 16, 2021
Bonni H.
Subscribed for 11 days
Fabulous, well made figures. My kids love the detail and there's enough in each box for sharing and endless imaginative play!
Itty Bitty Box Collectible Toys said...Feb 18, 2021
Thanks Bonni for the 5-Star review, it made us smile big :) We hope your kids continue to imagine big things!
My autistic grandson won't put them down
Nov 13, 2020
Sidney T.
Subscribed for 1 month
This was the perfect gift! My grandson loved the African Safari theme and got very excited when he saw the neat box arrive. I was surprised by the quality and realism of the toys. His mom has to bring them along everywhere now. We can not wait for the next one. Thank you!
Itty Bitty Box Collectible Toys said...Nov 14, 2020
No, thank you! We appreciate you sharing, how wonderful!
My son loved it!
Sep 13, 2020
Veronica G.
Subscribed for 1 month
I ordered this box for my 7 year old a few days before his birthday And it came in just in time! He loved it! I can't wait for him to get his next box and see him open it.
Itty Bitty Box Collectible Toys said...Sep 14, 2020
A huge Itty Bitty thanks for our first review Veronica! It is so rewarding to hear that we added to a happy birthday for your son :) We're just as excited for him to receive the next box too! Let us know his reaction…
Photos from reviews of Itty Bitty Box Mini Toys…
---
Past boxes from Itty Bitty Box Mini Toys…
---
Shipping Policy
Your 1st box always ships within 3-5 days after you order! Future boxes ship on the 14-16th starting the next month after you subscription date. We give you...
Cancellation & Refund Policy
Subscriptions automatically renew. You can cancel at anytime.
Itty Bitty Box Collectible Toys appears in these collections...
---
Questions for Itty Bitty Box Collectible Toys?
---