Lash Me Monthly is currently sold out!
Lash Me Monthly
by Lash Me Monthly
Lashes and full size beauty products delivered to your door every month!
Product Details
Lash Me Monthly - By Clis New York
The ultimate subscription box designed to find your perfect pair of lashes while also helping you discover new beauty products every month. You no longer have to look through stacks of lashes to find your perfect style. Leave it up to us! Each month you'll receive personalized lashes and full size beauty products from hot and trendy brands.
3 pairs of lashes + 3 full size beauty products (ex. makeup palettes, lipsticks, skincare and all things beauty related)
All lashes are customized based on your personal profile
Vegan, Cruelty free lashes
Retail Value: $70+
FREE US Shipping!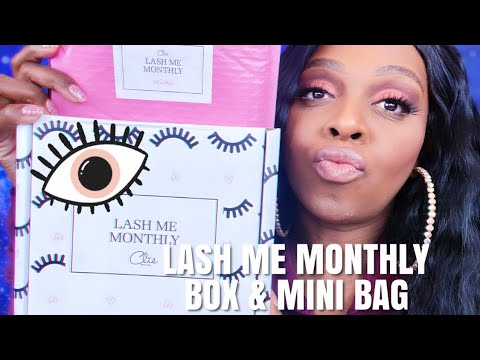 ---
Customer Questions (8)
Q: I subscribe today it means i will have my box by the 15 of september? Also i have no confirmation.Asked by Helen C., August 2021
Lash Me Monthly answered...August 2021
Hi Helen!
Thank you for subscribing to Lash Me Monthly. Our boxes ship between 10-15 of each month. You will be receiving a tracking notification once your box has shipped. Order confirmation emails are sent out once the purchase is complete, we recommend checking the junk folder if you are unable to locate it in your inbox. If you need further assistance please email our customer service team and we will be happy to help.
Have a great day!
---
Q: How long do these take to ship out if ordered on the 1st of the month???Asked by Elizabeth R., February 2021
Lash Me Monthly answered...February 2021
Hello Elizabeth,
Our subscription boxes ship on a monthly schedule. All orders are shipped out between 10-15th of each month.
---
Q: Do you ever include magnetic lashes? Asked by Sera H., February 2021
Lash Me Monthly answered...February 2021
Hi Sera! We have yet to feature magnetic lashes in our box. They may be included in the near future.
---
Q: Where are the cosmetics made? Are any made in China or PRC? Thank you!Asked by Alexis M., December 2020
Lash Me Monthly answered...December 2020
Hi Alexis,
The cosmetic products are provided by our partners and many of which may be manufactured in China or PRC. We work with many US and international brands to curate products for the monthly boxes. You may visit the Partners page on our site to find some of the companies we work with and directly visit their site to find out more information. Hope this helps!
Reviews (27)
Reviews for this product (22)
Reviews for this seller (5)
Happy happy happy
Jan 02, 2021
Nicole M.
Subscribed for 15 days
I absolutely loved it!!! The lashes were incredible and the liners out of this world!
Amazing 😻
4 days ago
Sameka C.
Subscribed for 18 days
Great products, fast service.
"The best thing you can possibly do with
Nov 11, 2021
Jessica W.
Subscribed for 2 months
Great products!
Eyelashes
4 days ago
Marlene V.
Subscribed for 1 month
Overall did not like the lash quality
Would Highly recommend 👌
May 21, 2021
Roberta M.
Subscribed for 5 months
Love the lashes, the palet is extremely beautiful😍
Love it
Jan 25, 2021
Curvy B.
Subscribed for 8 days
Love this box
Fabulous box
Dec 24, 2020
Heather G.
Subscribed for 12 days
Lovely box
Spooky Edition 💀
Oct 18, 2019
Lucylu C.
Subscribed for 2 months
Check out my YT channel @myoso treasures. I got the Spooky edition box, everything was just so awesome thank you so much.
Great subscription
Nov 22, 2020
Sam P.
Subscribed for 30 days
Loved my first subscription box. I was pleasantly surprised with how many great quality items I was sent. This subscription far exceeded my expectations!
Lash Me Monthly said...Nov 23, 2020
Hi Sam,
Thank you for your feedback. We're so glad you liked your first box! We appreciate you taking the time to leave us a great review.
Have a great day!
Monthly Subscription box
Jan 24, 2020
Roslin M.
Subscribed for 9 months
Got my first box and I love it! The lashes are beautiful. The blush is perfect match for my skin tone and the eye pallet is so pigmented. Can't wait to get my next box.
Photos from reviews of Lash Me Monthly…
---
Past boxes from Lash Me Monthly…
---
Lash Me Monthly was featured in these articles…
---
Lash Me Monthly appears in these collections...
---
Use code CJOY at checkout to get 15% OFF your first box
Sold Out
Shipping Policy
We ship out all boxes by the 15th of every month. All new subscribers must join by the 20th of each month in order to receive the current...
Cancellation & Refund Policy
Subscriptions automatically renew. You can cancel at anytime.
Questions for Lash Me Monthly?
---