Loti Wellness Self-Care Box (CANADA) is currently sold out!
Product Details
Choose Joy and Nurture Wellness
LOTI WELLNESS delivers the tools and strategies you need to cope with life's challenges, using research based in positive psychology and psychotherapy. Each box is curated by therapists and focuses on a theme like reducing anxiety and boosting positive mindsets to help you discover self-care and self-love. *SEE USA STORE TO PAY IN USD
Therapeutic activities and worksheets to change your mindset.
Premium wellness products that are 100% natural and cruelty-free.
Cancel anytime before your next shipment or contact us to skip a month.
Products sourced from small local businesses where possible.
Retail value is approx. $100+ in every box!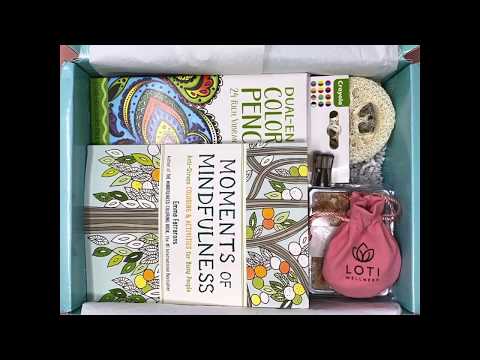 ---
Sneak Peek
Loti Wellness Box
In each box you will receive 5 to 7 quality wellness products to remind you to take the time for self-care. In addition, you will receive therapeutic activities and guided materials based on the monthly theme to help you build more self-confidence and your own "me-time" routine. The items in our box vary month-to-month, and include a mix of natural bath and body, skincare, candles, aromatherapy, journals and much more.
Order by January 1st to get this box!
---
Customer Questions (8)
Q: The website is currently saying that my first order would ship January 10 - in that case would I be getting the November or the December box as my first box?Asked by Jamie F., November 2021
Loti Wellness Self-Care Box (CANADA) answered...November 2021
Hi Jamie, our cutoff date for the current box is the last date of the month, so if you placed an order anytime before November 30, you would still get the November box. We've now changed the wording to show "First box ships within 5 business days of your order". Thanks for your support!
---
Q: How do you order the quarterly subscription and I want to have the first box come to my address (Christmas gift) then change the address for the remaining boxes - is that possible?Asked by Kim H., October 2021
Loti Wellness Self-Care Box (CANADA) answered...November 2021
Hi Kim, our subscription boxes ship monthly, but if you would prefer to receive boxes every quarter please contact us and we'll see what we can do! With regards to your first box sent to your address and then changed for the remaining boxes, yes that is absolutely possible. Simply let us know the new address to ship, or be sure to change the shipping address in your account before the 20th of the month. Thanks for your support! - The Loti Team
---
Q: If I am ordering this for a birthday gift how long does it take for shipping in Canada (Winnipeg?)Asked by Karl C., September 2021
Loti Wellness Self-Care Box (CANADA) answered...September 2021
Hi Karl, if ordering a prepaid subscription, the first box will ship within 2-3 days. Monthly boxes ship each month between the 25-31st. For delivery within Canada, it should take 3-7 days for your box to arrive. Please don't hesitate to reach out again if you have any questions!
---
Q: Where does Loti Wellness ship from?Asked by Grace T., February 2021
Loti Wellness Self-Care Box (CANADA) answered...February 2021
Hi Grace, thanks for contacting us. We ship from Canada (near Toronto, ON) :) xo The Loti Team
Reviews (23)
Loved it!
Aug 14, 2022
Loved it! Such an amazing gift to receive!
Excellent first impression!
Jan 22, 2022
Received this as a gift and will likely continue to subscribe after the initial gift subscription lapses. There is a lot to like about this box. I just tried a couple of products, including the hair masque and I feel as if I just left the hairdresser! Excellent quality products and honours Canadian entrepreneurs. So far, so great!
Ummm where is it?
Feb 09, 2022
Stephanie G.
Subscribed for 2 months
Never arrived. Very dissatisfied.
Loti Wellness Self-Care Box (CANADA) said...Feb 09, 2022
We're so sad you experienced this, Stephanie. When you contacted us via email, we responded right away asking for a shipping address confirmation because the postal carrier noted an issue following a delivery attempt. Once you confirm the shipping address, we can get your box shipped out again no problem. Our Customer Service team has reached out to you for assistance, please kindly check your inbox and we'll get this sorted out!
Just what I Needed
Oct 06, 2021
Joanne J.
Subscribed for 30 days
Just loved everything in the box, can't wait to try everything. It's like opening a Christmas present.
Favorite box!
Apr 14, 2021
I have been reviewing Loti Wellness for A Year of Boxes for over a year and liked every box I received. It is well curated and perfect for me. There is a theme for every box and self-care items and a workbook to go with it. This box is really worth it and also makes a wonderful gift. Highly recommended.
Nice excuse to pamper myself
Apr 16, 2021
Nicole S.
Subscribed for 1 month
I enjoyed that there was no makeup, but that there were things to pamper myself with. I was slightly surprised at the cost of shipping. I''m giving it a go for another month though. Note: customer support is super fast and friendly! And i am so happy to have something that ships from inside Canada.
Amazing
Jul 07, 2021
Julia H.
Subscribed for 3 months
Love this subscription box!
Love it!
May 28, 2021
Tracey T.
Subscribed for 1 month
Love it! Everything looks beautiful and I will use it all.
Great subscription
Apr 09, 2021
Marla M.
Subscribed for 3 months
This was a gift for our daughter and she loved it! We only wanted a 3 month subscription and when it came time to cancel it the customer service was fantastic.
Great box! Shipping terrible!
Apr 16, 2021
Marg T.
Subscribed for 1 month
I loved the box as a gift. The expedited shipping with Canada Post was terrible. What was under a 4 hour drive for delivery ended up taking us across the country with post errors. The package was addressed properly but, it was rerouted in error. An embarrassing birthday gift that arrived very late!
Photos from reviews of Loti Wellness Monthly Subscription…
---
Past boxes from Loti Wellness Monthly Subscription…
---
Customers who bought this also bought...
Loti Wellness Self-Care Box (CANADA) was featured in these articles…
---
Loti Wellness Self-Care Box (CANADA) appears in these collections...
---
Shipping Policy
Following boxes ship around the 25-31st of each month
Renews monthly on the 10th
*ALL PRICES IN CANADIAN - Please see "Loti Wellness Self-Care Box (USA)" if you wish to be charged in USD. Monthly subscriptions ship around the 25-31st of each...
Cancellation & Refund Policy
Subscriptions automatically renew. You can cancel at any time.
Questions for Loti Wellness Self-Care Box (CANADA)?
---