Peace & Pages is currently sold out!
BEST OF 2021
Peace & Pages Monthly Subscription
by Peace & Pages
Delivering peace, comfort & happiness through reading and unique products from small businesses.
Product Details
Peace & Pages, for reading and relaxation lovers.
Every box will include a well-received book in a genre of your choosing along with unique relaxation items and gifts from small shops across America. Equal parts self-care and book box, it's perfectly curated to help you read and relax.
A monthly delivery of an intriguing book and handpicked products sourced only from small businesses in the US. These items are unique and often handmade, so not what you'd find on big box store shelves!
With 10+ book genres to choose from, including Young Adult and Christian Fiction, there is something for everyone! Choose just one type or as many as you'd like to mix it up.
Each book included is researched for positive reviews, has a publication date within the last 3 years, and will be in new/like new, unread condition.
Two subscription options to better fit your lifestyle and budget. The Basic is our smaller option including a book and a full-sized bath/body product and aromatherapy item. Or go big with the Deluxe to receive a book, full-sized bath/body and aromatherapy products, a special gift item and a snack or drink.
Flat rate shipping of $6.99/box. Peace & Pages will cover the remainder of the shipping cost, no matter where in the US you call home!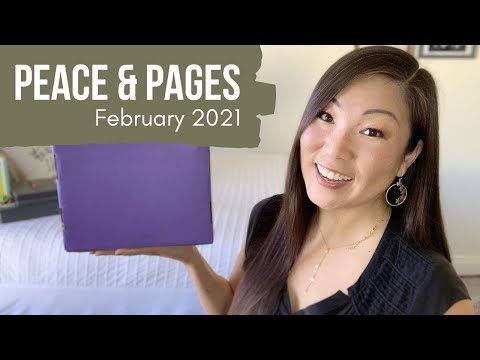 ---
Sneak Peek
October 2022
We LOVE October and we know you are going to love our "Hocus Pocus" box, which is full of amazing products from small US businesses that will get you pumped for spooky season! As always, we will pack it with a book in your favorite genre, creating a read and relax vibe that is- dare we say- magical?
Order by October 3rd to get this box!
---
Customer Questions (20)
Q: Would you ever consider making a box subscription that has the book and the food or drink item rather than the aroma therapy and bath item? Sort of the opposite of the current basic box option.Asked by Kristen P., June 2020
Peace & Pages answered...June 2020
Hello and thank you for your question!
I think this is a great suggestion, and something for Peace & Pages to
consider. We are always looking at ways we can grow and we have discussed
possibilities in making a more "customizable" subscription option.
Follow @peaceandpagesbox on Facebook and Instagram for our latest updates.
Thank you!
---
Q: I want to order a Kidd box for Christmas. I don't see how to set up for Christmas delivery. Asked by Debra H., October 2021
Peace & Pages answered...October 2021
Hi there!
We are on a monthly schedule, so if you want your recipient to receive the December box you would place your order after November 4th. We also have boxes on our website that are one time buys that ship next day.
We don't have boxes for children, but we do have young adult options for the books we send. Please click the "contact seller" link at the bottom of our listing page to reach out to us directly and we can help further if needed! Thank you!
---
Q: I have only a shower -- no bathtub. Can I get a substitute or maybe 2 aromatherapy products instead? I really think I would love this subscription but do not want to pay for items I will not use.Asked by Teresa S., July 2021
Peace & Pages answered...July 2021
Hello and thank you for your question!
Generally we do not offer substitutions because all subscribers receive the same specially chosen products for that months theme. However, we often have stock of other items that do not necessarily match that months theme that we could send if that is acceptable. Please reach out to us at cs.peaceandpages(at)gmail(dot)com and we can talk about it further!
---
Q: I was gifted this subscription 3/12. Just trying to see when it will arrive?Asked by Marybeth B., March 2021
Peace & Pages answered...March 2021
Welcome to Peace & Pages! We ship the beginning of each month, so any orders placed in March will ship the beginning of April. Thank you!
Reviews (129)
Reviews for this product (110)
Reviews for this seller (19)
5 star box!
Apr 13, 2022
Danielle I.
Subscribed for 7 months
I have been subscribing to peace and pages for a couple of years now and absolutely love this book subscription service! They go above and beyond to make sure you get the books you enjoy and introduce you to unique and quality small businesses! The curation is wonderful and you can tell they put in a lot of time to make these boxes special! I can't recommend them enough!
Peace & Pages said...Apr 18, 2022
Thank you so much for your kind words and your review! We are so happy you've enjoyed your subscription!
Must try.
Sep 12, 2022
Sarah B.
Subscribed for 2 months
As a recent widow and cancer survivor at 55, I don't always do a lot of self care (have kiddos at home) but this is a monthly treat i get for myself. It is always packaged beautifully, and the quality of the products and books are amazing. It is the highlight of my month! Thanks.
Peace & Pages said...Sep 12, 2022
It means so much to us that this has helped bring you some joy after such hardships. Thank you for your kind review and our very best wishes to you!
Pleased with curation
Sep 05, 2022
Laura S.
Subscribed for 28 days
Happy with this box and I will continue my subscription. Love the random other goodies in the box that fit with theme of book and I could "feel" the care put into the package. Def recommend.
Peace & Pages said...Sep 06, 2022
We are so glad you are enjoying your subscription! Thank you for your review and kind words!
Great book box for clean content and fun
Aug 14, 2022
Daniela P.
Subscribed for 2 months
My daughter has loved her book choice and the gifts inside were just perfect!
Peace & Pages said...Aug 15, 2022
Thank you so much for your review and support!
Yes
Feb 21, 2022
Ashlyn D.
Subscribed for 2 months
Love this so cute.
Peace & Pages said...Feb 21, 2022
Yay! So glad you are enjoying your subscription!
Pamper Perfect
Nov 14, 2021
Mary A.
Subscribed for 1 month
I am usually not 100% satisfied with monthly subscriptions, but I was pleasantly surprised by this one. It's not the most inexpensive, but it's well worth the price and includes lovely surprises exactly as you expect from the description. Each item made me so happy and feel so pampered, and the book choice looks really interesting. It was a wonderful gift to give myself and I can't wait to get the next one.
Peace & Pages said...Nov 14, 2021
Thank you so much for trying Peace & Pages and for your review! We work hard to curate boxes that our subscribers will love, and we know the small businesses we work with put a lot of effort and love into each of the products. It does cost more than sourcing the items from large manufacturing companies overseas- but we believe the quality is worth it, and you can feel good knowing your purchase made a big difference for small business owners in the US :) Thank you again for shopping small and for your review!
Recommend
Nov 11, 2021
Such a great subscription box! It was packaged neatly, had great items, and was shipped out sooner than expected!
Try it!
Nov 03, 2021
I won a drawing for a deluxe Peace & Pages box. I received my box today and was happy with everything. I am excited to start my new book! If you are a book lover, I highly recommend trying out Peace & Pages.
Can't Wait for the next one!
Nov 10, 2021
I love it! Unique items and good books! Can't wait for my next one❤️🕊️
I love it!
Oct 08, 2021
I just loved my subscription box! It actually got me to finally sit down and just relax and chill with my book, which by the way I loved!! The scents I received were amazing and so calming! Thank you Peace and Pages to a much needed rest✌🏻
Photos from reviews of Peace & Pages Monthly Subscription…
---
Past boxes from Peace & Pages Monthly Subscription…
---
Customers who bought this also bought...
Peace & Pages was featured in these articles…
---
Peace & Pages appears in these collections...
---
A book in one of your favorite genres, a full-sized bath and body product and a
... Show More
---
Selling Fast! - Only a few boxes left. Buy soon while supplies last.
Shipping Policy
Orders placed today ship by October 14
Boxes ship the first week of each month.
Renews monthly on the 14th
Orders placed at this time will begin with the October box, shipping the first week of October. Please note, the "as low as" price is the yearly prepay option...
Cancellation & Refund Policy
Subscriptions automatically renew. You can cancel at anytime.
Questions for Peace & Pages?
---