The World Awaits is currently sold out!
This is Me Box
by The World Awaits
Best box for new Moms. The only box with a monthly boutique bodysuit celebrating baby's development
Product Details
The World Awaits - Mommy & Me Baby Box
An indie-designed exclusive bodysuit to mark each month's "birthday." Every box has a nursery rhyme to sing along to & an artisan-made gift such as mitts, socks, etc. Plans can start as early as birth. Two upgrades are possible: one to personalize the items and the other to chart baby's progress and experiences in a beautiful book – see below.
All items are boutique-designed and handmade EXCLUSIVELY for this box. Estimated value of THE WORLD AWAITS BOX $60.
BOUTIQUE BOX : The classic box featuring a bodysuit, gift and nursery rhyme card.
THIS IS ME BOX : For just an extra $3 per box all bodysuits and gifts can be personalized with baby's name.
THE WORLD AWAITS BOX : In addition to everything from the This is Me box, you'll receive a handcrafted wooden book with the sheets to chart baby's progress and experiences of the world. You will receive a catch-up pack if you join after birth.
Ships FREE worldwide. Perfect gift from grandparents living away from baby. The boxes can be started at any point until 9 months old.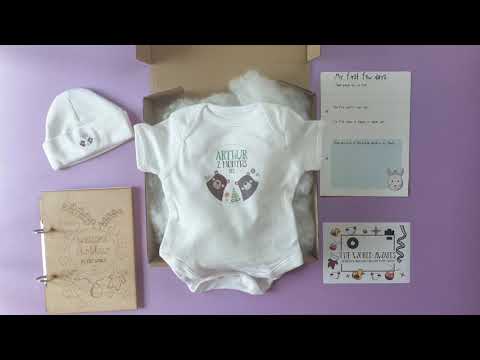 ---
Customer Questions (0)
Have a question?
Ask the community and get help from thousands of informed subscribers.
Reviews
This box doesn't have any reviews.
---
The World Awaits appears in these collections...
---
Shipping Policy
Your box will ship on the 18th of every month. Please order by the 28th to get the current box.
Cancellation & Refund Policy
Subscriptions automatically renew. You can cancel at anytime.
Questions for The World Awaits?
---