yARNaBLE is currently sold out!
Product Details
yARNaBLE - Luxury hand dyed yarn
A subscription box for yarn lovers and fiber artists of all experience levels! yARNaBLE is designed to celebrate YOU with a monthly surprise of squishy-soft luxury yarn from our in-house hand dyed brand, Hypnotic Yarn, and 2-3 indulgent sample-sized treats and/or notions designed to delight and inspire.
Exclusive colorways each month
Luxury Yarn
Hand Dyed Yarn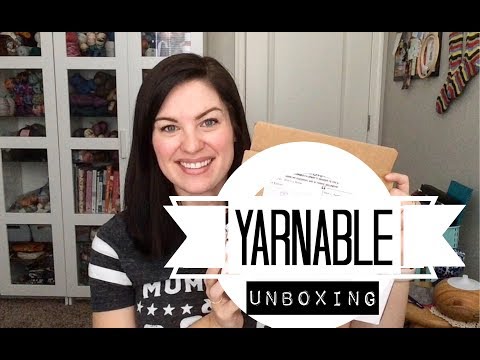 ---
Customer Questions (2)
Q: What is the yarn typically made of?Asked by Amanda M., June 2021
yARNaBLE answered...July 2021
Yarn is 85% superwash merino wool and 15% nylon
---
Q: Does this box come with a pattern?Asked by Maryann M., April 2020
yARNaBLE answered...February 2021
While some yARNaBLE boxes may include a pattern as one of the extras, each box does not typically include a pattern.
Reviews (5)
Monthly surprise
Oct 13, 2022
Iris S.
Subscribed for 1 month
I loved the yarn. Also received a bag of loose leaf tea. I prefer loose leaf but the tea had a bitter taste. I did not like it.
Great box!
Aug 10, 2022
I received my first box this month and I love it. The yarn was beautiful and sooo soft! The goodies were fun and paired well with the yarn. I knitted it up in one weekend because the yarn and color were just so bright and happy.
Favorite sock yarn
Mar 10, 2022
Diane G.
Subscribed for 1 month
My favorite sock yarns have come from yarnable! And the extra surprises are always fun and things I use.
yARNaBLE said...Mar 10, 2022
Hi Diane, thanks so much for letting us know how much you're enjoying your Yarnable subscription! Hearing this means the world to us.
First Yarnable Box but won't be the last
Jun 07, 2021
Chrystal B.
Subscribed for 12 months
Absolutely love my box and all of its contents. Everything was on point with the theme and the yarn is beyond beautiful.
Love yarnable club
May 07, 2020
Lilian B.
Subscribed for 3 months
I love the yarn and the goodies,
Past boxes from 2022 yARNaBLE Monthly Box - 1 Skein…
---
Customers who bought this also bought...
yARNaBLE appears in these collections...
---
2022 yARNaBLE Monthly Box - 1 Skein
by yARNaBLE
Supercharge your creativity and bring a monthly dose of joy to your mailbox!
Shipping Policy
yARNaBLE boxes ship out the last week of every month, by the 31st of that month. Our cutoff date for this month's box is the last day of...
Cancellation & Refund Policy
Subscriptions automatically renew. You can cancel at any time.
---