Baby and Sunshine is currently sold out!
Mom and Baby Monthly Box (Standard)
by Baby and Sunshine
Mom and Baby clothes and other essentials delivered to you monthly!
Product Details
Baby and Sunshine - Essentials for BOTH Mom & Baby
These boxes are filled with wonderful items for BOTH mommy and baby(ies). Here are some reasons why Baby and Sunshine boxes are so great. 🔹 Soft and comfy fabrics for your babies - footed onesies, matching sets. 🔹 Cute but functional clothing for mom - loungewear, shapewear, nursing essentials. 🔹 Get items throughout Pregnancy and Postpartum.
High quality and functional items for daily use.
Soft and comfy clothes for your babies.
Mom + Toddler + Baby all in one box!
We make an effort to support and include at least one or two adorable handmade items from local small shops (many of these are SAHM-owned).
Over $100+ retail value in each Standard Box and over $200+ retail value in each Super Box!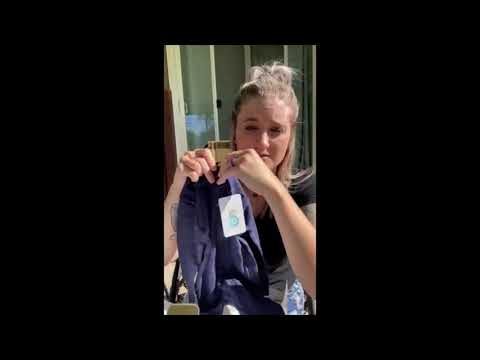 ---
Customer Questions (3)
Q: Hi! I was wondering if you could provide additional details on the sourcing of your fabrics and whether or not each item is certified organic? Thank you!Asked by Kathryn G., October 2021
Baby and Sunshine answered...October 2021
Hello Kathryn,
Thank you for reaching out. Our main focus is on having a variety of items that parents will find useful during pregnancy and postpartum, along with supporting other small mom and pop businesses. So we don't track the fabric productions ourselves, we have a large partner vendor base and some of them do track the production of their fabrics. Some of the vendors we work with do have items with certifications such as GOTS, SGS, ASTM, or WRAP. Other partner vendors have fabrics that has been tracked through the production chain to prevent comingling but has not gone through the process of obtaining certifications. Since we focus on packing the boxes with variety, not all items will be organic cotton, some are cashmere,...
---
Q: How do you select the super box or standard box? I didn't see options listed anywhere. Asked by Krystal S., March 2021
Baby and Sunshine answered...March 2021
Hi Krystal,
Thank you so much for your inquiry. Our Cratejoy Super Box is out of stock at the moment. We're working to get that stocked back up for Cratejoy in a couple weeks.
---
Q: I received my box as a gift (I love it!!) What are washing instructions are for the items the have the vinyl lettering. Is this something that you put on or is it professionally put on? Asked by Marsha W., February 2021
Baby and Sunshine answered...February 2021
Hello Marsha, we're so glad you loved your box. All our personalizations are designed, cut, and placed by hand in our shop. Some other designs without personalizations are also designed, cut, and placed by hand in other mama-owned shops that we support. We recommend washing your items on cold inside out to help keep for long time.
Reviews (3)
Loving our boxes
Aug 30, 2021
Diana V.
Subscribed for 5 months
We are on our 2nd box, and they keep getting better as we go. We were very impressed with the first box, and loved the second even more. Baby has received very cute outfits, some personalized with a name. Boxes have also included things for every member of our family. In our second box, we were surprised with extras like a night light and natural hand cream. Would definitely recommend this subscription box. So far so good, we are excited for our next shipment!
Baby and Sunshine said...Aug 30, 2021
Thank you thank you so so much for your kind words Diana. This means everything to us. We will do our best to keep making the boxes better and better. :)
Wow- worth it!
Jul 09, 2021
Darien G.
Subscribed for 15 days
My expectations were surpassed with this box! Items were of good quality, useful, and there was a wide variety of items. There was only one item that I wouldn't have chosen for myself and the shipping took a little longer than expected. Regardless, I would fully recommend this box as a fun surprise for yourself or a friend/family member!
Baby and Sunshine said...Jul 10, 2021
Thank you so much for your wonderful review Darien. :) We're so happy you enjoyed your box. We will make sure to keep working on our shipping speed to create a 5-star experience. Congratulations on your upcoming bundle of joy!
SO many great items!
Feb 09, 2021
Marsha W.
Subscribed for 10 days
I received this box as a gift. Wow! I got soo much stuff! Cute mom/baby matching Pj's, sweater, pacifier, nursing tops, nursing dress, bamboo sleeper and more! They were given my personalization info and made an adorable sleeper with my daughter name on it. The items seem to be good quality and all things I will use. I will definitely consider ordering for myself. Make sure to give as much personalization info as possible so they can choose things that work best for you. (Ie: are you nursing, what colors you like don't like etc...)
---
Past boxes from Mom and Baby Monthly Box (Standard)…
---
Customers who bought this also bought...
Baby and Sunshine was featured in these articles…
---
Baby and Sunshine appears in these collections...
---
Shipping Policy
For new subscribers, we ship within 1 week of your first order. For current subscribers, we ship out within 1 week of your monthly renewals. We only ship...
Cancellation & Refund Policy
Subscriptions automatically renew. You can cancel at anytime.
Questions for Baby and Sunshine?
---