Confetti Collection is currently sold out!
Confetti Collection Subscription Box
by Confetti Collection
Every other month, be surprised with a selection of giftables, stationery, and other fun novelties!
Product Details
A Surprise Mix of Stationery and Giftables
Confetti Collection is a unique subscription box delivering happiness right to your door! Perfect to treat yourself – or for gifting to a friend – each box is filled with surprise selections of items that you are sure to love. To maintain the element of surprise, we ship a variety of boxes within each theme. You never know exactly what you'll get!
8 - 10 items sent to you every other month
Customers who select the Every Two Months plan will be billed every 60 days
Be inspired with a joyful mix of fun surprises
Order now - limited quantities available!
Voted 2019 Best Box Under $25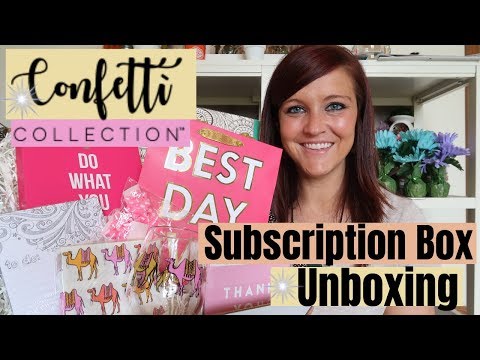 ---
Customer Questions (18)
Q: Can I subscribe so I get a box once a month rather than every other month? Like I received my 1st box a little over a week ago if I subscribe again will I get the exact same things? Asked by Katherine P., June 2021
Confetti Collection answered...June 2021
Confetti Collection is a bi-monthly subscription - we ship a new box every 60 days. Yes, if you subscribe again, you will receive the same box.
---
Q: I just received my 1st box and I didn't receive the same box I've seen everyone else unbox for April/May or May/June , random items with no theme no stationary of any kind. Is that for 1st time boxes?Asked by Susan M., May 2021
Confetti Collection answered...June 2021
Hi Susan - you were one of the first subscribers to receive our latest box, Summer Surprise. We don't always have a themed box, and in this case, the greeting cards and gift bag are the stationery items. Thanks for giving us a try!
---
Q: I'm interested in this box but do not want the set of paper plates looks to be the August box? When should I order to get the next box? Thank you LuciaAsked by Lucia M., August 2020
Confetti Collection answered...August 2020
Hi Lucia - the next box begins shipping September 15th.
---
Q: Will this box ever be shipped to UK?Asked by Michelle C., April 2020
No answers yet! Be the first to help by adding an answer below.
Reviews (236)
Love
Nov 15, 2021
Sherry D.
Subscribed for 2 months
I have been subscribing to different boxes just to see what I can find. I LOVE this box. I'm so ready for the next one!!!!
Love the products
Nov 01, 2021
Pam C.
Subscribed for 6 months
This was the best box I've ever received. So sad to see it end.. Loved it!
Pam C
Love this box
Oct 23, 2021
Mallori N.
Subscribed for 3 months
This box is great! I just got a job at home and having adorable supplies is just so much fun! These bacon socks I can't get enough of.
Wonderful
Oct 15, 2021
Judy R.
Subscribed for 8 months
Confetti is the best subscription box. I have had many subscriptions box bets them all
Great Box but not for me
Oct 04, 2021
Kristina L.
Subscribed for 9 days
I did cancel this subscription box because it wasn't what I was looking for BUT the quality of the items in the box are top notch. Shipping was very fast too.
Confetti Box Collection
Oct 01, 2021
Pam N.
Subscribed for 7 days
Loved Loved the nice surprises, when I opened the box.
A very nice collection to give as a gift for sure.
Confetti box
Sep 20, 2021
Gina L.
Subscribed for 16 days
I love my box it was awesome it's my favorite subscription I subscribed to
Love everything!!!!
Aug 15, 2021
Cindy M.
Subscribed for 9 days
Received my first box, Adventure Awaits, and I LOVE EVERYTHING!!!! I had no idea what to expect and I wish my husband had videoed me opening my box. I was so excited, surprised, and happy with EACH item!!! Love, love. love and have already recommended to friends. I hope I get the box that ships Septemember. Great box, thanks so much!!
Awesome box!
Jul 04, 2021
Lorena S.
Subscribed for 3 months
Awesome amazing value box!
amazing
Jun 28, 2021
Liv N.
Subscribed for 11 days
Absolutely loved everything in it. Can't wait for my next box !
Photos from reviews of Confetti Collection Subscription Box…
---
Confetti Collection appears in these collections...
---
Shipping Policy
Your first box will ship within a week of placing your order. After that, your box will ship every 60 days. (Estimated delivery date depends on your destination...
Cancellation & Refund Policy
Subscriptions automatically renew. You can cancel at anytime.
Questions for Confetti Collection?
---