Product Details
Canadian box for spiritual-witchy-eclectic souls!
Spiral Rain's witch box is filled with handmade items and simple rituals to include magic in your everyday life. Each month, your box will come with a minimum of 5 full sized items that resonate with the energy and theme for that month. ***PRICES IN CAD *** AUGUST'S BOXES ARE SOLD OUT, PURCHASE NOW TO RECEIVE SEPTEMBER'S BOX!
We do not buy pre-made things from China and put our logo on them like other boxes. You will discover some outsourced items to complete the theme, but never a box full. We take pride in making everything we can ourselves, and to charge each product with magick and intention.
All Spiral Rain products contain natural, high-quality ingredients selected with intention and for their correspondences. Expect a handcrafted box of herbs, healing crystals, ritual oils, incenses, candles, and other supplies needed to work with the chosen theme.
We donate $1 for each box sold to Sustaining Hope Intl. Their mission is to alleviate poverty in developing nations by giving clean water to individuals and families in need by distributing water filters in regions where the water source is judged unfit for human use.
Our subscribers buy our boxes because they like to learn about the items and the chosen monthly theme from the monthly course, description of items, and the Grimoire Magazine. We make it a priority to teach you how to use your items instead of just throwing items in a box.
Each box includes between 4-7 items or more depending on their value (retail value of CAD $70+), a mini-course on the monthly theme (retail value 20$) sent by email and a monthly Grimoire magazine (retail value of 10$).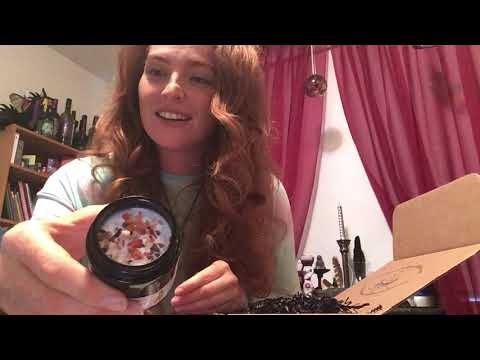 ---
Spiral Rain's Witch box (Canadian dollars) is not available, but you'll love these other boxes!
Current Box from Spiral Rain (Canadian dollars)
2023 BOX THEMES
2023 Witch box themes : January - Water Magick February - Love Magick March - Fire Magick April - Poppet Magick May - Earth Magick June - Money Magick July - Air Magick August - Celtic Magick September - Moon Magick October - Shadow Works November - Knot Magick December - Old World Magick
---
Past Boxes from Spiral Rain (Canadian dollars)
---
More from Spiral Rain (Canadian dollars)
---