Your business and work would not be what it is if it weren't for your dedicated team of employees who show up ready to work and committed to reaching their goals. Hard work warrants acknowledgement, so whether you're looking for a one-time employee recognition gift, or you're interested in setting up a program to show your ongoing appreciation, we're here to offer unique gift ideas that will fit your needs.
These unprecedented times have shown that employee gifts can boost morale, while also keeping your employees and coworkers connected to one another while working from home. Here at Cratejoy, we believe that personalized gifts tailored to your specific business needs can have a positive impact on employee engagement.
Just to give you a taste of some gift giving options available to you, we've curated a selection of thoughtful gifts that will allow you to send your valued team members monthly acts of appreciation like a boss!
---
---
Succulents Monthly
Price: Starts at $29.00/month
What's Included: Swap out the gift card or company logo tumbler for a charming collection of plants from the pros at Succulents Monthly. One of the best gifts to add a little cheer to any work space and keep employees smiling, this budget-friendly gift box sends succulents with style. Along with a healthy, easy-care plant, they'll get a decorative clay pot, high-quality potting mix, a hand-illustrated plant care sheet and fun extras!
Shipping: Only ships within the U.S. in the week of the 25th
---
Fresh Baked Cookie Crate
Price: Starts at $24.99/month
What's Included: We all know how popular those break-room cookie platters are, so take it up a notch with Fresh Baked Cookie Crate, a sweet gift set that's delivered right to the front door. Ideal as a holiday gift or an appreciation gift, this deluxe DIY baking kit serves up a batch of fresh-baked cookies made from gourmet ingredients, along with fun add-ins like practical baking tools, scented candles, and other cookie-themed swag!
Shipping: Only ships within the U.S. during the 1st week of every month
---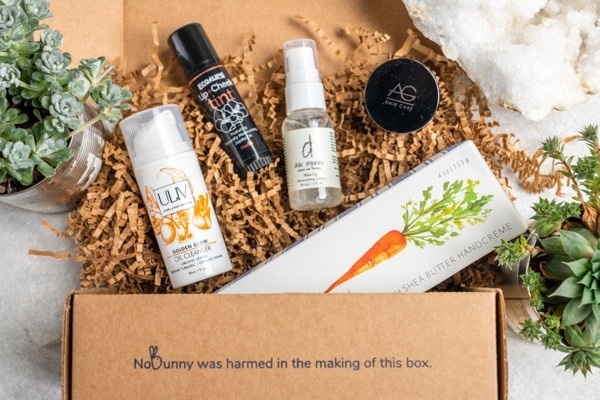 Vegancuts Beauty Box
Price: Starts at $23.95/month
What's Included: Vegancuts delivers a monthly beauty box that's packed with pampering products to relax body and mind. Make self-care an integral part of your team's routine with an employee appreciation gift basket that delivers a sampling of top-shelf clean beauty goodies that are guaranteed to be 100% vegan, cruelty-free and non-toxic, including cleansers, hydrating lotions, and rejuvenating serums and scrubs.
Shipping: If ordered before the 10th, your first box ships worldwide from the U.S. by the 17th of the month; if order is placed after the 11th, your first box ships by the 2nd of the following month
---
Escape the Crate
Price: Starts at $26.50/box
What's Included: Life should never be all work and no play, making Escape the Crate a great gift to encourage your employees to break free from everyday stresses and dive into a world of challenging gameplay. Bringing the fun of an escape room adventure to the comforts of home or office, stimulating and thought-provoking puzzles, riddles and clues can help to encourage team building or family fun!
Shipping: Ships worldwide from the U.S. in the 1st week of the month, every other month
---
Green Kid Crafts
Price: Starts at $21.91/month
What's Included: Employees everywhere are trying to find that work-family balance that makes it all feel worthwhile. Send them some stress-free activities to enjoy as a family with Green Kids Crafts. Teaching kids to look at their world and environment through a STEAM lens, these craft kits are packed with sustainable materials and supplies for themed activities and hands-on craft projects for kids of all ages.
Shipping: Ships worldwide from the U.S. within 1-4 days of processing your order
---