Hot Chocolate Bombs are sweeping the internet: first TikTok, then Pinterest, and all for good reason. These melting chocolate balls make an experience out of drinking a cup of hot chocolate, and thankfully, they're a pretty easy DIY treat anyone can make at home. Here's how it works: chocolate is formed in baking molds, and filled with hot cocoa mix, and a variety of mix ins to form the bomb. Then just place the hot chocolate bomb in the bottom of a mug, add hot water or milk, and watch the chocolate shell melt away, bursting the bomb, and releasing the tasty contents inside!
Each recipe tutorial has a total time of less than 30 minutes including prep time, and uses easy-to-find ingredients available in the baking aisle at most grocery stores. Some recipes use hot chocolate bomb molds that look like bath bombs and some don't require them. The best part is that each hot chocolate bomb can be customized by using dark chocolate, milk chocolate, white chocolate, and an endless amount of fillings and flavors (even pumpkin spice). Here are a few hot cocoa bombs recipes to get you started!
The best hot chocolate bomb recipes
Peppermint Hot Chocolate Bombs
​Source: Renee Nicole's Kitchen
Peppermint is a quintessential cold weather flavor, and what better way to enjoy it than paired with a steaming cup of hot cocoa? These peppermint hot chocolate bombs call for chopped semi-sweet baking chocolate or chocolate chips, crushed candy canes, and mini marshmallows.
The chocolate shell is formed using a silicone mold and filled with hot chocolate mix, and a healthy spoonful of crushed candy canes. Drizzle chocolate spheres with white chocolate and sprinkle the top with more crushed candy cane pieces. Swap in chopped Andes chocolate bars for more chocolate.
Find the full recipe and tutorial at Renee Nicole's Kitchen.
Melting Snowman Hot Cocoa Bombs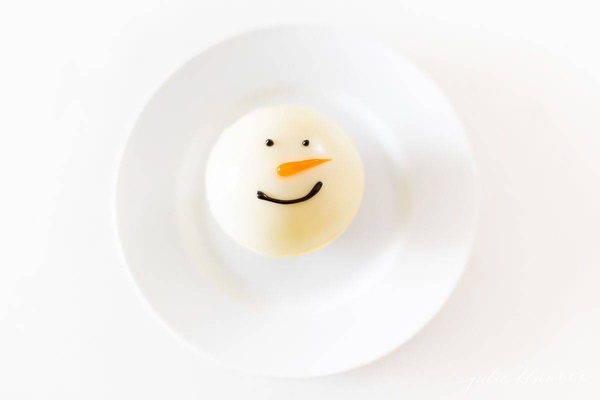 ​Source: Julie Blanner
If you're in the mood for something whimsical, try out this cute melting snowman hot cocoa bomb. Heat almond bark or white melting chocolate in the microwave until just melted, then use a spoon to coat the inside of a silicone mold, and pop in the freezer to chill for about seven minutes.
Simply fill the mold with white hot chocolate mix, and candies and treats of your choosing (crushed peppermint or mini marshmallows would be perfect here). Top with the second half of the chocolate shell, and seal your bomb with leftover melted chocolate, using a piping bag. Make a snowman face on the bomb using black writing icing for the eyes and mouth, and orange for the carrot nose. Place in the bottom of a mug, and watch the snowman melt when the hot milk hits!
Julie Blanner has the full recipe and step-by-step guide.
Mexican Chocolate Hot Cocoa Bombs
Source: Kids Are A Trip
These Mexican Chocolate hot cocoa bombs add a kick to everyone's favorite winter drink. Start by mixing cinnamon, nutmeg, and cayenne pepper for the Mexican spice mix. Melt chocolate candies, then coat silicone baking molds with a spoon, keeping the chocolate thick, but even.
Chill, then fill with hot cocoa powder, and spice mix. Seal bombs using a warm plate to melt the rim of one half sphere and "glue" it to the other half with the layer of chocolate. Top with a drizzle of melted chocolate and golden sparkling sugar for extra pizzazz.
Recipe and tutorial available at Kids Are A Trip.
Peanut Butter Hot Chocolate Bombs
Source: My Heavenly Recipes
Few things are more irresistible than the combination of rich, creamy chocolate and sweet, nutty peanut butter. For this recipe, the mix is made from scratch using powdered sugar, cocoa powder, powdered milk, and powdered peanut butter (found in most grocery stores), along with some chopped chocolate, or chocolate candy melts.
Use melted chocolate bark to coat baking molds, and chill for 5-10 minutes. Spoon peanut butter hot chocolate mix into the chocolate shell and top with melted peanut butter and sprinkles. Use hot water to burst the bomb, or hot milk to make it extra creamy.
My Heavenly Recipes has the recipe and tutorial.
Birthday Hot Chocolate Bombs
​Source: Shugary Sweets
These Birthday Hot Chocolate Bombs are practically a cupcake in a mug, and make a great gift for anyone celebrating a winter birthday. Heat Ghirardelli white chocolate melting wafers in a microwave safe bowl, until just melted. Spoon into baking molds, and let shells harden at room temperature on the counter, or in the fridge for a quicker set time. Once hardened, brush one half of the sphere with melted chocolate, and roll in a bowl of multicolored sprinkles to coat the entire surface.
Fill the other halves with white hot chocolate powder, and seal the chocolate cocoa bombs using the warm plate method. Bonus: Pour hot coffee along with hot milk over the birthday bomb for a caffeinated white mocha treat.
Find the recipe and how-to guide over at Shugary Sweets.
S'mores Hot Chocolate Bomb
Source: When Is Dinner
For a fun twist on the classic, try this recipe for s'mores hot chocolate bombs. Melt down semi-sweet chocolate chips, and use the back of a spoon to coat the surface of the silicone sphere mold. Fill chocolate shells with your favorite hot chocolate mix and mini marshmallows. Dip the empty shell in melted chocolate, and press onto the filled shell, using fingers to wipe away and smooth out any excess chocolate.
Top with chocolate shavings or drizzle, mini marshmallows, and a sprinkle of graham cracker crumbs. Pour hot milk over the bomb and you've got a drinkable s'more!
The ingredient list and recipe tutorial are at When Is Dinner.
Irish Cream Hot Chocolate Bombs
Source: Renee Nicole's Kitchen
Looking for a more adult version of the chocolaty hot drink? An Irish cream hot chocolate bomb would be great to serve at parties, small gatherings, or just to enjoy on a quiet evening in. Coat the rounds of each half sphere of a silicone mold with melted white baking chips, and let set.
Fill the bombs with hot cocoa mix, mini marshmallows, and a teaspoon of instant coffee or espresso. Seal the hot cocoa bombs using the warm plate method, and drizzle with leftover melted chocolate, and a dusting of hot cocoa mix. Place in the bottom of your favorite mug, and pour hot milk and a shot of Irish cream liqueur over the bomb. Boozy and delicious!
Find the full recipe and tutorial at Renee Nicole's Kitchen.
---
Try a fun subscription box like Marshmallow of the Month Club to pair with your hot chocolate bombs! Every month, a new variety of handmade marshmallows and graham crackers arrive. There's a reason this is one of the most beloved boxes on our marketplace!