Boxy Momma is currently sold out!
Product Details
T-Shirts designed with motherhood in mind!
Treat yourself to the monthly shirt exclusive to motherhood! Every month features an exclusive, super sort, unisex sized t-shirt shipped monthly to your door! Sizing from XS-3X!
FUN EVERY MONTH | 3 subscription levels to choose from; cancel anytime
MAKES A GREAT GIFT | You can add a personalized certificate before your order ships
SIZES GALORE! We feature XS to 3X to fit every beautiful mom bod!
A CHARITABLE CHOICE | A portion of sales is donated to mental health charities
BUZZED-ABOUT | It's been featured in BuzzFeed, Good Housekeeping, Yahoo, Parenting, and more!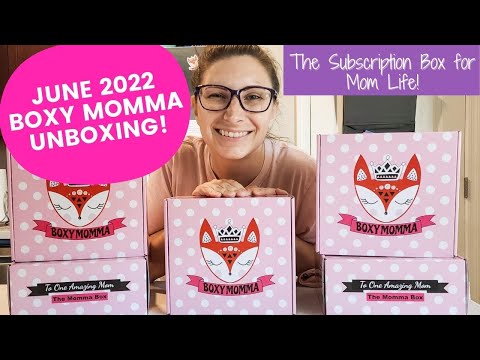 ---
Customer Questions (0)
Have a question?
Ask the community and get help from thousands of informed subscribers.
Reviews (130)
Reviews for this product (34)
Reviews for this seller (96)
Mothers Day Waste
Sep 28, 2022
Jeff G.
Subscribed for 5 months
This was a complete waste of money as a Mother's Day gift idea. The shipments have never been consistent and I'm always left wondering when the product will actually come. Still waiting for confirmation that the September shipment will happen and it's currently 9/28. Truly awful, no way I renew.
Boxy Momma said...Sep 28, 2022
I am sorry to hear you are disappointed. This is the first time I've heard of this. I haven't received any prior emails from you. I am always happy to help situations but don't know there are issues if you don't reach out to let us know. I sent an email this month explaining the recent shipping delays as we have been in the middle of moving and I've been dealing with some health issues. If you've had such an awful experience I'm more than happy to cancel your subscription and refund you for the remainder so you can find something that works better for you. I try to keep everyone updated via email and social media as much as I can, I run this...
Absolutely Perfect!
Aug 10, 2020
Janine A.
Subscribed for 15 days
I subscribe to a lot of boxes. This is one that "knows me" as a mom. The items inside are perfect, especially for us moms going through rough times with our children and their future, with everything going on in the world. It's a little reminder that we're not alone. A great gift idea for a mom too! All of the products are excellent quality. It was packaged nicely and carefully. I look forward to my next box! Thanks so much!
Highly recommend! :)
Nov 17, 2020
Mishelle B.
Subscribed for 2 months
I am a newbie to box subscriptions, and wondered if I would receive quality items that would be worth the price I was paying. So far, I have been super happy with the 2 boxes that I have received from Boxy Momma. There was a handy true Momma quoted tote, a cute halloween dish towel, t-shirt, yummy tea, a tumbler with a funny saying, refreshing face mask, beauty products, and so much more useful items! You can tell that there is a lot of thought that goes into this box, as they are full of items we Moms need! I also love how soft and clever quoted the t-shirts are! I would recommend trying out the Mega box to get the T-shirt along with all of the other Momma goodies!!
Cute
Nov 16, 2020
Really cute stuff.
I would recommend
Mar 10, 2020
Mariapelle
Subscribed for 3 months
I absolutely love this box!! I am a little bit of a subscription box addict and I have to say that I look forward to this box the most each month. Besides the awesome, useful, items each month; I really enjoy the small personal touches. Sarah really goes out of her way to make you feel like a friend and part of a community and as a stay at home mom I appreciate that the most. Great box!!!! I highly recommend!!
First Boxxy Momma Box
Mar 09, 2020
Megan B.
Subscribed for 13 days
This is my first box from Boxxy Momma and I love it! Can't wait to get next months box now too. I love the quote on one of the products too! (Don't want to spoil it!) I also liked the personalized note on the inside of my box. Thank you!!
Photos from reviews of Monthly Shirt Club…
---
Past boxes from Monthly Shirt Club…
---
Customers who bought this also bought...
Boxy Momma was featured in these articles…
---
Boxy Momma appears in these collections...
---
XS--Width-16.5 inches, Length-27 inches
---
Selling Fast! - Only a few boxes left. Buy soon while supplies last.
Shipping Policy
Orders placed today ship by October 14
Shirts ship on between the 4th-6th of every month
Renews monthly on the 14th
Monthly shirts ship between the 4th-7th of EVERY month! Order by the LAST day of the month to receive our latest shipment! (Example- order June 28th, your first...
Cancellation & Refund Policy
Subscriptions automatically renew. You can cancel at any time.
Questions for Boxy Momma?
---