International Meal Kits by Takeout Kit is currently sold out!
Product Details
Where will your taste buds take you today?
Experience a global cooking adventure with Takeout Kit meal kits. We've searched the world for hard-to-find ingredients and authentic recipes - so you don't have to. Subscribe today and start cooking your way around the world.
Makes a great gift for the foodie in your life
Each meal kit feeds 4 - just add your choice of protein!
The best thing? Takeout Kits can be stored in your pantry until you're ready to cook!
With each kit you'll learn the culinary history of the dish, discover amazing new flavors, and follow easy instructions to craft your delicious global-inspired meal. We even give you suggestions for fresh add-ins and drink pairings to elevate your experience.
Choose from 16 dishes such as: Pad Thai, Ramen and Indian Butter Masala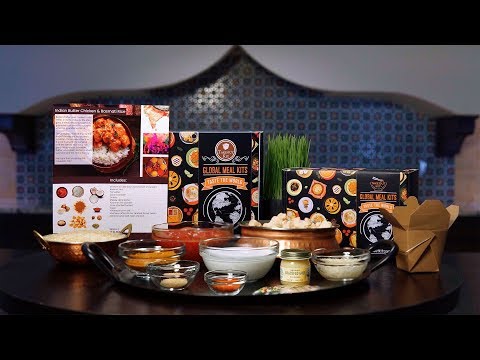 ---
Customer Questions (8)
Q: Your boxes are out of stock. When do you think you will restock?Asked by Autumn A., July 2021
No answers yet! Be the first to help by adding an answer below.
---
Q: Can I purchase multiple one-time gift boxes to be shipped to different locations in one purchase?Asked by Staci Q., October 2020
International Meal Kits by Takeout Kit answered...October 2020
Hi Staci, our boxes are currently out of stock. But normally, there can only be one shipping address per order. If you sign into your Cratejoy account, however, you can speed up the other details (billing info, etc.). Hope that helps! Rachael
---
Q: I live by myself, so four portions is a lot of leftovers. Is it possible to make half of the recipe at a time? Or do you offer options for smaller households?Asked by Lisa D., March 2020
Many of our customers are couples or singles and either enjoy leftovers or freeze extra portions. Check out this blog article for cooking tips:
takeoutkit[dot]com/blogs/news/meal-kits-for-2
by Rachael L., March 2020
---
Q: My tikka marsala box arrived without instructions. Can I download the instructions from somewhere?Asked by Kathleen O., February 2020
Hi Kathleen, sorry for the oversight! We can send you a PDF version of the recipe card ASAP. Can you please send a quick email using the Contact Seller button on our listing?
by Rachael L., February 2020
Reviews (35)
Very yummy but needs more choices.
Aug 14, 2020
Stephanie B.
Subscribed for 12 months
We love this box! The only downfall for us is that we've ordered all the boxes already so there are none left for us to try.
International Meal Kits by Takeout Kit said...Aug 15, 2020
Thanks so much for the review, Stephanie! While we no longer offer our subscription meal kits, you can get free access to new recipes on thefoodieglobetrotter[dot]com
Cheers,
Rachael
Awesome!
Jan 04, 2020
So tasty! Easy and fun to make!
Japanese dinner was perfect
Jan 02, 2020
Very tasty, authentic tasting, and filling.
Highly recommended!!
Dec 25, 2019
My husband and I have absolutely loved our first box! We got the pho and a good amount of lector we for a good bit, can't wait for the next 5 boxes (:
A delightful way to say Happy Birthday!
Nov 30, 2019
I don't know what Curation is - but the Spaetzle, sausage, and sauerkraut was absolutely delicious! We LOVED it! Thank you, so much! It's such a great gift! We've got enough "stuff"! Happy Birthday to me - - - Thank you, Amy!
Fantastic gift!
Aug 06, 2019
James W.
Subscribed for 6 months
This is such an awesome package. Got the tonkotsu for my gf on her birthday and the results were fantastic. It's worth noting that you may need to buy additional fresh ingredients to heighten the experience but the basics will be there for you. Would definitely recommend - looking forward to the next installments!
International Meal Kits by Takeout Kit said...Aug 06, 2019
Thank you so much for the review, James! We're so happy to hear that the birthday surprise was a success. Cheers :)
awesome!
Aug 05, 2019
It was so fun! It tasted amazing and we loved that everything was included!
Thai crab with rice
Jan 30, 2019
Tina W.
Subscribed for 9 months
The Thai crab meal was delicious. We looked up how to say bon appetit in Thai, and then noticed the card had it already :)
Thank you for thinking of everything!
Jan 04, 2019
Jim M.
Subscribed for 6 months
Gave as a gift to my brothers family. THey really enjoyed it. The only comment was they will use the fresh suggestions to next time! Well done! Very happy buyer.
Christmas Gift
Jan 01, 2019
Emily B.
Subscribed for 3 months
Gave this as a Christmas gift for my brother, he absolutely loved it! Food quality was excellent.
Photos from reviews of Around-the-World Subscription 2019…
---
Past boxes from Around-the-World Subscription 2019…
---
International Meal Kits by Takeout Kit was featured in these articles…
---
International Meal Kits by Takeout Kit appears in these collections...
---
Shipping Policy
FREE SHIPPING! You'll receive your first box in 1-4 business days (we ship from CA). After that, renewals ship on the 1st of every month. We'll be sending...
Cancellation & Refund Policy
Subscriptions automatically renew. You can cancel at anytime.
Questions for International Meal Kits by Takeout Kit?
---