Loti Wellness Self-Care Box (USA) is currently sold out!
Product Details
Choose Joy and Nurture Wellness
LOTI WELLNESS delivers the tools and strategies you need to cope with life's challenges, using research based in positive psychology and psychotherapy. Each box is curated by therapists and focuses on a theme like reducing anxiety and boosting positive mindsets to help you discover self-care and self-love. *SEE CANADA STORE FOR CANADIAN SUBSCRIBERS
Therapeutic activities and worksheets to change your mindset
Premium wellness products that are 100% natural and cruelty-free.
Cancel anytime before your next shipment or contact us to skip a month.
Products sourced from small local businesses where possible.
Retail value is approx. $100+ CAD in every box!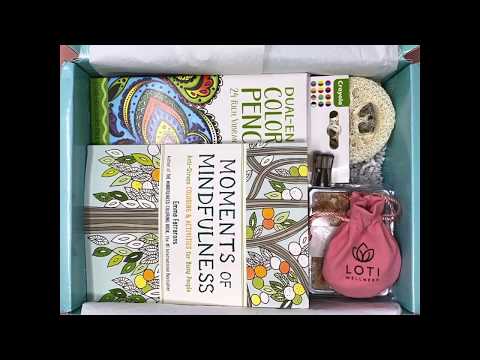 ---
Sneak Peek
Loti Wellness Box
In each box you will receive 5 to 7 quality wellness products to remind you to take the time for self-care. In addition, you will receive therapeutic activities and guided materials based on the monthly theme to help you build more self-confidence and your own "me-time" routine. The items in our box vary month-to-month, and include a mix of natural bath and body, skincare, candles, aromatherapy, journals and much more.
Order by January 1st to get this box!
---
Customer Questions (0)
Have a question?
Ask the community and get help from thousands of informed subscribers.
Reviews (1)
Some trouble
Sep 10, 2021
Kaitlin W.
Subscribed for 1 month
I was disappointed with the shipping procedure. Overall it wasn't worth the trouble but in terms of enjoying the box, it was top notch. The lunch smell of new beauty products is wonderful. The bath salts were nearly edible.
Past boxes from Loti Wellness Monthly Subscription…
---
Customers who bought this also bought...
Loti Wellness Self-Care Box (USA) was featured in these articles…
---
Loti Wellness Self-Care Box (USA) appears in these collections...
---
Shipping Policy
First box ships within 5 business days of your order
Following boxes ship around the 25-31st of each month
Renews monthly on the 10th
*ALL PRICES IN USD - Please see "Loti Wellness Self-Care Box (CANADA)" for CAD pricing. Monthly subscriptions ship around the 25-31st of each month. Please allow 3-10 business days...
Cancellation & Refund Policy
Subscriptions automatically renew. You can cancel at any time.
Questions for Loti Wellness Self-Care Box (USA)?
---