Every year, plants seem to grow in popularity, even for people with little or no gardening space available. Succulents in particular have become super popular, and for good reason. These hardy little plants look adorable, whether they're gracing your workspace or sitting pretty in your social media feed. Plus, succulents are easy-care live plants, requiring only a little water and some light to survive and thrive.
Once you become a plant parent to one little piece of greenery, though, you'll want to add to your growing garden. An incredibly easy and convenient way to do this is with a plant subscription box. By signing up for a monthly subscription, you'll receive a new plant each month, along with care instructions. Some plant of the month club boxes also feature cute accessories, like pots and garden decorations.
Cratejoy offers several beautiful plant and garden subscription boxes, so you've got many options to choose from. You can select a plant subscription box that delivers succulents, vegetable seeds, houseplants, or gardening supplies. With a monthly plant subscription, you can add a little greenery to your windowsill or backyard in no time.
Read on to find the perfect plant subscription box for you that can match your gardening skill set, your space requirements, and your budget. You're sure to love the beautiful results.
Plant Subscription Boxes: What They Are & Why Their Popularity Is Growing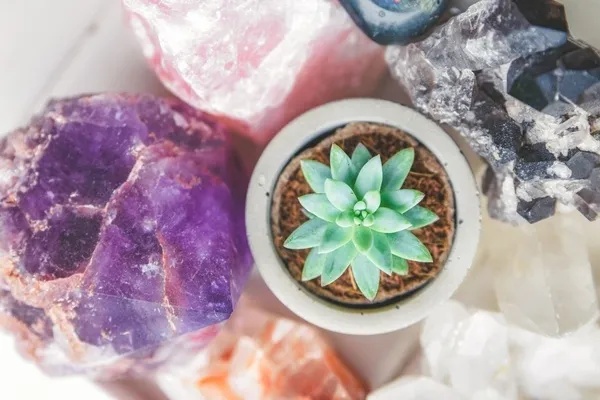 Like other monthly subscription boxes, a plant subscription box conveniently delivers new plants and gardening supplies to you every month. Some boxes specialize in delivering new dreamy succulents each month, while others bring great gardening supplies home so you can launch a DIY garden and help your plants take root.
A plant subscription service is a wonderful treat for someone who wants to add pretty pieces of greenery to their home but isn't sure where to start. The great thing about a monthly plant subscription is that each box contains all you need to get that little plant growing. Many plant subscription boxes include a decorative container or vase, so your new little green friend will look gorgeous from the start.
The Perfect Plant Subscription Boxes: Growing Your Plant Care Skills
Are you hesitant to order a plant subscription box because you've been known to kill plants? Don't worry; there's a plant subscription box for every skill level. Cratejoy features subscriptions for succulent boxes, air plants, low-light plants, pet-friendly plants, houseplant boxes, and vegetable seeds, to name just a few of the many selections. And whether you're a plant newbie or prone to letting plants die, you can easily master the art of plant care.
If you want to branch out your plant care skills and set yourself up for gardening success, check out Cratejoy's list of the best plant subscription boxes to grow your green thumb. This curated collection explores some of the top-rated different seed and plant subscription boxes that subscribers have loved.
A succulents box or a gardening subscription box makes a great gift, too. If you want to send a fun gift to a friend or loved one who enjoys DIY projects, take a peek at our list of monthly plant subscription box gifts for plant parents everywhere. With so many amazing options to choose from, it may be hard to select just one.
The Perfect Plant Subscription Boxes: Sweet Succulents
A succulents box is a great choice for anyone who wants to explore gardening. Because they require little water and can be kept in small containers, succulent plants are favored by a wide range of people and are loved for their easy-care beauty and hardiness. Succulents look great when planted as tiny individuals in colorful containers or clustered together in a larger pot.
If you're looking to give your desk at work a touch of green, brighten up your windowsill, or take on a simple DIY project that will yield lovely results, check out the best succulent boxes. They come in a variety of price points, so there's one for every budget.
The Perfect Plant Subscription Boxes: Hello, Houseplants & Air Plants
Are you looking for a houseplant box that will add beautiful greenery to your home or office? Cratejoy makes it easy to find a monthly box that will have you seeing green and loving it. Our monthly boxes of houseplants make great gifts for plant lovers who enjoy container gardening from the comfort of indoors.
If you want something simple to care for, consider air plants. These cute and tiny plants require minimal care. Because they don't need potting soil and can live in minuscule containers, air plants make a great choice for people who live in small spaces or want to add just a little bit of greenery to an area.
The Perfect Plant Subscription Boxes: Great Gardens
Cratejoy can help you get your green thumb going with garden plant subscription boxes. Subscribe to a garden box, and you'll receive vegetable seeds and care instructions. With a little bit of work and water, you're sure to be harvesting your own ripe veggies or delicious herbs soon.
Because a gardening subscription box contains everything you need to get started, you won't have to deal with the hassle of going to the gardening store or nursery multiple times. Everything you need to start your journey to a great garden is included in your garden box. It's never been easier to find easy-care vegetable and herb seeds and get them growing.
Go Green With the Perfect Plant Subscription Box
Thanks to Cratejoy, you can find beautiful and affordable plant subscription boxes that are perfect for your living space and lifestyle. There are monthly plant subscription boxes that are sized right for small apartments or little living areas as well as monthly boxes for larger gardens and outdoor spaces. Choose from subscription services filled with easy-to-care-for succulents, veggie seeds, beautiful blossoms, or gorgeous houseplants, and watch great results grow.
Plant subscription boxes also make fantastic and long-lasting gifts, especially for people who are apart from one another. They're a great way to send a monthly gift that can fit all different lifestyles and plant care knowledge. Send a dear friend or family member a succulent subscription to brighten their day and give them a neat project that's easy to succeed at and enjoy. Celebrate a loved one's purchase of a home by giving them a subscription to a gardening box. With each new plant or succulent box, the gift recipient will be able to add to their growing garden and think of you.